French far-right leader Marine Le Pen said Monday that it was not up to an American like former White House strategist Steve Bannon to rescue Europe from bureaucrats in Brussels.
"Bannon is not European. He is American," Le Pen, the head of the National Rally (RN) party, told a press conference in Rome. "It is us and only us who will shape the political force resulting from European elections, because we are attached to our liberty, attached to our sovereignty."
Le Pen was speaking alongside right-wing Italian Interior Minister Matteo Salvini at an event aimed to present a united front ahead of the EU parliamentary polls. Europe's anti-EU populists are hoping to make big gains in the May 2019 vote.
Read more: Opinion: Steve Bannon attacking the EU from the right
Bannon on a mission
Bannon has announced plans to set up a think tank called The Movement in Brussels to boost right-wing parties across the continent. In recent months, he has been reaching out to possible allies in Europe in a bid to drum up support for a pan-European, anti-establishment campaign.
Salvini, who heads the anti-immigrant League and is Italy's deputy prime minister, met Bannon last month and has also reportedly signed onto The Movement. In March, Bannon spoke at a party congress for Le Pen's National Front, which was later renamed National Rally. Its vice-president Louis Aliot said the French party would also join Bannon's foundation.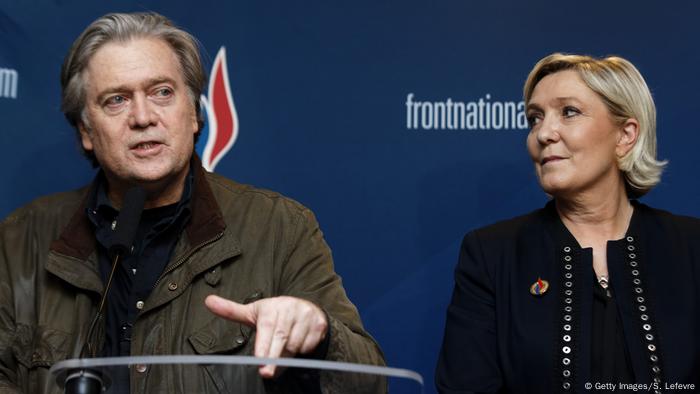 Steve Bannon spoke alongside Le Pen at a Front National congress in March
But at Monday's conference, Le Pen stressed: "It is we who represent the different peoples in Europe, who structure the political force that aims specifically to save Europe. Let that be very clear."
Read more: Opinion: The problem is populism, not just Italy
Revolution in Europe
Salvini told reporters there needed to be a "common sense revolution" to oust "those cut off in the bunker of Brussels."
He also attacked EU Commission head Jean-Claude Juncker and EU Economics Commissioner Pierre Moscovici — who have criticized Italy's budget plans — saying they had "brought insecurity and fear to Europe and refuse to leave their armchairs."
His comments were echoed by Le Pen, who characterized progress in the bloc as "pathetic."
"The EU was built on a lot of promises ... but very few are realized or provide results."
"We're not fighting against Europe but against the European Union that has become a totalitarian system," she said.
Read more: Germany's AfD rebuffs Steve Bannon plan to unite European populists
European populist parties have celebrated a series of electoral successes in recent years. Italy's populist government came to power in June. Earlier this year, Hungarian nationalist Victor Orban began serving his third term as prime minister. In Germany, the anti-immigration Alternative for Germany (AfD) became the biggest opposition party after last year's election, and in Austria, right-wing populists make up the government.
nm/rt (AFP, AP, dpa)
Each evening at 1830 UTC, DW's editors send out a selection of the day's hard news and quality feature journalism. You can sign up to receive it directly here.