Foreign Minister Frank-Walter Steinmeier told German media on Saturday that he hoped Russia was not "banking on a prolongation of the Syrian civil war."
Steinmeier said there should be no more independent meddling in the Syrian conflict, which has killed more than 250,000 people since 2011 and led to a refugee crisis.
"A situation must not be created that renders joint action by the international community impossible," he told the Funke newspaper group.
Earlier this week, there were reports Russia might be sending servicemen and equipment to Syria as part of a military buildup to protect President Bashar al-Assad's regime. Steinmeier echoed concerns expressed earlier by NATO and the United States, saying he hoped Russia had "calculated the potential risks."
Steinmeier's remarks came shortly before Syrian state media reported on Saturday that two Russian planes had landed in coastal Latakia province - a stronghold of Assad - with 80 metric tons of humanitarian aid on board.
Moscow, which remains a close Assad ally, has denied any expansion of its military presence in Syria and maintains that its continued support of Assad aims to defeat extremist group "Islamic State" (IS). While Russia believes that eliminating IS is impossible without Assad, the US says his presence makes the situation worse.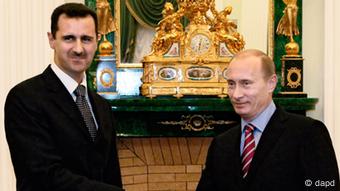 Close allies: Assad and Russian President Vladimir Putin
On Friday, US President Barack Obama said Russia's approach was a mistake that "could prevent us from arriving to a political settlement." Russian Foreign Minister Sergey Lavrov, on the other hand, called for military-to-military cooperation with the US and NATO to avert "unintended incidents."
Australia joins Syria mission
Meanwhile, Australia has completed its first airforce mission in Syria, three days after agreeing to a US request to join an international coalition bombing IS targets there.
Australia was already part of the coalition fighting the militants in Iraq but this week extended air operations into Syria. Prime Minister Tony Abbott said on Saturday that Australia was "responding in strength" to the threat posed by the group.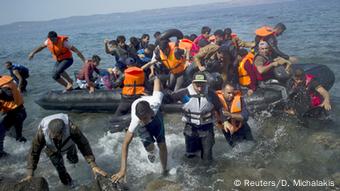 Many Syrians fleeing conflict have travelled across the Mediterranean to try and reach Europe
"We cannot defeat Daesh in Iraq without defeating Daesh in Syria too," he said, using an alternate name for the jihadists, who control swathes of territory in both countries.
'The human train will continue'
Since the civil war began in 2011, half of all Syrians have been forced from their homes, creating 4 million refugees and displacing some 7.6 million within the country. The United Nations said Saturday that 1 million more people will be displaced within Syria by the end of the year if the war there continues unabated. That's on top of the 1 million already displaced so far this year.
"Unless something big is done to resolve this conflict through political means, the human train that has started moving out of Syria and the neighborhood will continue to be running for many months to come," Yacoub El Hillo, UN resident and humanitarian coordinator in Syria, told Reuters.
"So it is safe to assume that more people will be heading to Europe, and rightly so, because the countries that have so generously been hosting these refugees - Lebanon, Jordan, Iraq, Turkey, Egypt - are also reaching...a breaking point."
nm/rc (AFP, Reuters, dpa)