German President Frank-Walter Steinmeier on Sunday asked forgiveness for the suffering inflicted on homosexual men by the German state not only under Nazi rule but also in the years after 1945.
Speaking at a ceremony in Berlin to mark the 10th anniversary of a monument to commemorate homosexuals who were persecuted by the Nazis, Steinmeier said mistreatment of gays had continued after the war in both East and West Germany.
"The German state has inflicted heavy suffering on all these people, particularly under the Nazis, but also after that, in East Germany and also under the Basic Law," the Federal Republic's constitution, Steinmeier said.
Read more: New film for Berlin's memorial to commemorate persecuted homosexuals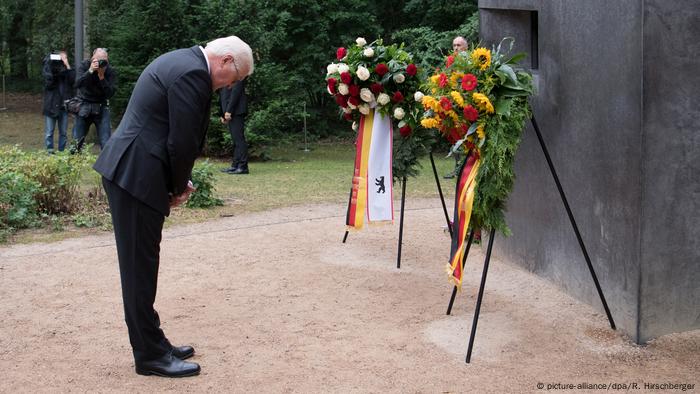 Steinmeier laid a wreath at the memorial, which was unveiled in 2008
Continued persecution
Steinmeier said that the commemoration was for "the many tens of thousands of people whose private spheres, lives, love and dignity were infringed upon, denied and violated." He evoked the more than 50,000 men persecuted by the Nazis, who were "tortured, sent to prisons and to concentration camps."
But he said the time after 1945 also had to count when remembering the persecution of homosexuals.
"For this reason, I am asking for forgiveness today — for all the suffering and injustice and for the long silence that followed," he said.
He noted that homosexuals had continued to be punished under the same rigorous application of Paragraph 175 instigated by the Nazis for more than 20 years after the Nazi era had ended.
The paragraph, which made homosexual acts between males a crime, was a provision of the German Criminal Code from 1871 to 1994 and led to the conviction of some 140,000 men overall. The Nazis tightened the law, increasing the maximum penalty and widening the scope to include even non-physical indications of homosexuality.
It was considerably weakened in 1969, though convictions continued right up to its abolition 25 years later.
Although Paragraph 175 was abolished in 1994, it took until June 2017 for Germany to pass a law pardoning and compensating those gay men convicted under it.
Read more:Berlin is gay, and that's a good thing
Long waits
Steinmeier also asked forgiveness for the fact that homosexuals had had to wait far too long for an apology, saying it was one of the strengths of democracy to be able to apologize for injustices.
His speech also contained a pledge to today's LGBTQI community in Germany: "I call to all gays, lesbians, bisexuals, all queers, transsexuals and intersexuals in our country: Your sexual orientation and your sexual identity enjoy the protection of our state without question. Your dignity is also as inviolable as it should have been right from the start."
Read more:Gay Nazi victim Wolfgang Lauinger dies without state compensation
Every evening at 1830 UTC, DW editors send out a selection of the day's hard news and quality feature journalism. You can sign up to receive it directly here.