On Wednesday, Spain's new Socialist Prime Minister Pedro Sanchez presented his Cabinet. His choices sent a clear signal that Spain intends to strengthen its role within the EU. And there are more women in the administration than at any time since Spain returned to democracy in 1978.
Addressing reporters, Sanchez said of his new Cabinet: "All are highly qualified and bring a vocation for public service and reflect the best of Spain. It is pro-gender equality, cross-generational, open to the world but anchored in the European Union."
Read more: Who is Pedro Sanchez, Spain's prime minister-designate?
Women will now be overseeing Spain's economy, finance and defense departments as well as taking up the post of deputy prime minister. Women will also head the country's judiciary, education, environment and budget ministries.
Sending a signal
The appointment of Nadia Calvino as economy minister was well received by business leaders and the European Commission and largely seen as a guarantee of stability. Calvino has served as budgetary general director of the European Commission since 2014, and is known as a "staunch supporter of the European project." Sanchez himself also signaled that he intends to respect Spain's budget commitments with the EU.
One other notable appointment was that of Catalan lawmaker and constitutional expert Meritxell Batet as minister of regions. In that role, she will be charged with ironing out difficulties resulting from Catalonia's failed separatist movement and addressing the region's continued calls for further autonomy. Spain's constitution clearly states that the nation is "indivisible" and that national sovereignty rests in the Madrid-based parliament.
Josep Borrell, a former European Parliament president, has been named the country's new foreign minister. A Catalonian, the 71-year-old Borrell was a vocal critic of the Catalan independence movement.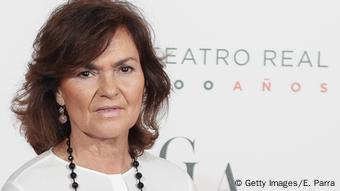 Socialist Carmen Calvo will take up the post of deputy prime minister and minister of equality
Carmen Calvo, minister of culture under the previous Socialist government of Jose Luis Rodriguez Zapatero, was named deputy prime minister and minister of equality.
An uphill battle
Prime Minister Sanchez, who came to power after conservative PM Mariano Rajoy was ousted last week in a no-confidence vote, faces an uphill battle in his quest to address Spain's "social emergencies." He lacks a parliamentary majority and those who helped propel him to office, such as the left-wing party Podemos as well as smaller nationalist parties from the Basque country and Catalonia, may begin to jump ship before long. In a worst-case scenario, that could lead to early elections.
Spain has the EU's fourth-largest economy and has enjoyed higher than average economic growth within the bloc, yet it also has the second-highest unemployment rate in the EU (16.7 percent) and a pension fund deficit of €18 billion ($21 billion).
js/bw (AP, AFP, Reuters)