The fare for the only daily train that covers the 611 kilometers between Huelva and Madrid is overpriced, and the old station is smaller than in many other villages. Across the tracks, little is left of a once prosperous city. From there, the marshlands are only home to the stadium of Recreativo, the oldest football team in the country, founded in 1889 by a group of British employees of the Rio Tinto Mining Company. Beyond the stadium, there are "the factories." Spain's second-largest petrochemical industry complex used to be Huelva's economic heart - but no longer.
"It's not impossible to find a job in the factories but you need to know someone inside," says Kevin Rodriguez, 20. He even got certified as a chemical facility cleaner and labor risk technician, but to no avail. He never got a reply to his many job applications. He says he would like to leave, try his luck in the UK, but that he needs money to make the trip. Like him, six out of 10 people under 25 in Andalusia are jobless. Total unemployment in Huelva is almost at 30 percent - and has been since the crisis started.
When Ramon Diaz finished high school and moved to Seville to study at the university, his career choice was an obvious one. He would become a building engineer. His father was a construction worker, and he had always liked the building industry. And it was supposed to be a safe bet. It was just a few years of hard work in college, and then he could get a good job afterwards. Or so he thought.
"When I was at university, architects would come and hire students right out of the classrooms," Ramon, 29, told DW. Nonetheless, he hasn't been able to secure a job in his field. He spends his summers working as a waiter at a beach bar, and is now preparing for the exams to become a teacher.
Victor Reloba, vice president and responsible for the socio-economic area of the Spanish Council of Youth, a public think-tank, says the seeds of unemployment were sown 20 years ago: "The country undertook a massive process of de-industrialization, and sectors such as tourism and construction were promoted. The problem with these sectors is that they are cyclic and the first to receive the blow in times of crisis," he told DW.
From 1980 to 2013, the average industrial contribution to the Spanish economy was reduced from 28 percent to 17 percent. Meanwhile tourism and construction boomed. In the 1990s, the income of tourism companies almost doubled, and construction skyrocketed too, to the point of employing over 14 percent of Spanish workers.
On February 25, 2014, Prime Minister Mariano Rajoy officially announced that "the crisis was over." Two years later, the Spanish economy is the fastest growing in the euro area, with a healthy 3.2 percent increase in GDP in 2015, a figure that the OECD expects Spain to reach again for 2016. Unemployment is also in decline, but critical voices in the country question the quality of the jobs created, and, again, whether the young are getting the worst part of the deal.
"The current growth in the economy is linked to a golden era of tourism due to the geopolitical instability of Spain's competitors in the Mediterranean, which is, in itself, a temporary situation," says Reloba. In areas where the industry is weak or declining, such as Huelva, summer jobs are a regular feature for many people under 30, who get paid for a few months' work at beach bars or shops in coastal towns.
Finding a job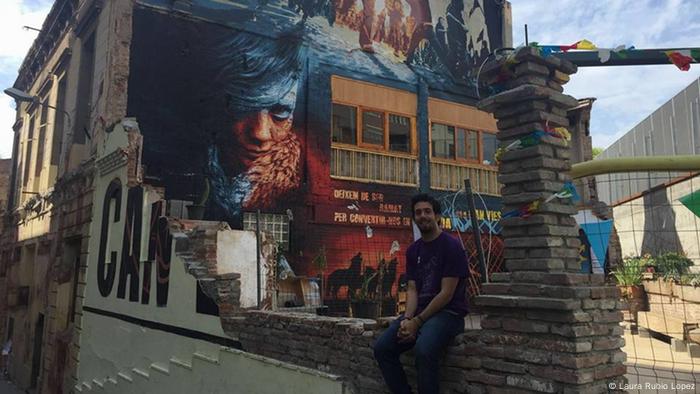 Juan Carlos Alarcon spent more than a year looking for a suitable job. For now he works as a waiter in a cafe
Juan Carlos Alarcon, 25, is from Madrid. After a year searching, he has just found a job, working as a supervisor in a public school cafeteria. There, he'll make 250 euros per month, working two hours per day. But Alarcon, a political scientist with an MA in political communication, is grateful.
"I have become an expert in job hunting strategies. Online, offline, through public initiatives, courses … I've tried it all. And at the end, it was a friend who got me a job," says Alarcon. He explains that the worst part is the chaos and lack of structure that unemployment causes. Facing joblessness, he says, "is quite devastating."
Alarcon is also thinking about migrating, but says it's a last resort. "There are many things I don't like about being here, but all in all, it's home. My family and my friends are here, and I think it's very unfair that I may be forced to leave. But if something came up, I wouldn't have a choice," he told DW.
Reloba confirms this is not an isolated case. "Unemployment denies people the capacity to decide what kind of lives they want. They're at the mercy of whatever happens. This frustration is absolutely destructive for people's mental health and self-esteem."
Many youngsters feel that they have been cheated. Spain has a problem of over-qualification. According to the Center of Youth, 56 percent of working people under 26 could aspire to more qualified positions.
Jesus Cordero, 25, feels frustrated that even after getting an IT engineer degree it's not proving very useful to find a job: "They told us to study, go to university, and that we would have a good job when we were done. Well, that was a lie. And I feel bad for the children in school today. The same lies are being fed to them."
Precarious conditions
Jose Vazquez worked in a local DIY and gardening store in Huelva city for a couple of summers. He still gets called once or twice a month, sometimes with just a few hours notice, to work a few hours. The situation, he says, is getting worse. "Every time I go, there are fewer people working at the store. Before, there were four girls picking up phones and coordinating the whole shop, and now there's only one. When they expect a surge in customers, they pull people like me from job agencies. It's the same people that worked for them before, only now they go through an intermediary," says Jose.
Ramon Diaz and his neighbor Jesus Cordero both got hired to install fiber optic cables for a local company. The job offer was for people with a BA in technical fields, like them, so they thought it was a qualified position, but when they started working they realized that the tasks expected from them were something else: "We were basically pulling cords into underground passages, and that's absolutely fine, but why do they need graduates to do that job?" said Jesus.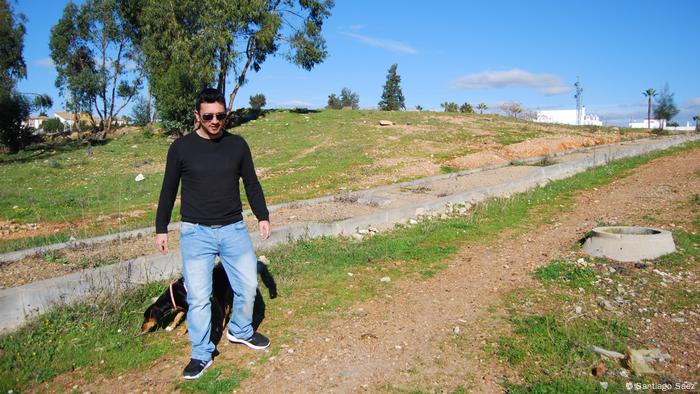 Jesus Cordero is a fully qualified IT engineer but has had little luck finding a job
Ramon thinks that companies are taking advantage of people's desperation to find a job: "I have no problem doing any kind of work, and it's definitely not a matter of money. I actually worked as a waiter at a beach bar from June to September, for about four euros per hour. However, the conditions at some companies are really bad, including safety measures. I don't mind working for peanuts, but my life is worth more than that."
Storm beyond the horizon
The dilemma for many Spaniards doesn't end when they turn 30. Even with a growing economy, the alarm bells are still ringing: The government has been dipping into social security reserves and already told Brussels that pensions are only guaranteed until late 2017.
Just under 20 percent of Spanish people under 30 live independently from their parents. The consequence of high unemployment rates is directly related to late family formation and fewer children per mother. Which in turn, says Reloba, will negatively affect the pensions of generations down the line.
For Reloba, there is a solution to the youth employment crisis, but time is running out: "We must invest in research and development, and in high added-value industries. We have to retain all this talent that we produce and give our young people a new sense of purpose. And we must do it fast, before we lose a whole generation."