In 2009 Jose Luis Peñas, a former PP councilman in Majadahonda (a well-off municipality on the outskirts of Madrid), handed over some sound files to the police. He had recorded 18 hours of his own conversations over two years with businessman Francisco Correa, the alleged ringleader of a racket. The criminal organization's companies had supposedly obtained favorable treatment from PP politicians at all levels in exchange for bribes and gifts since the 1990's.
The charges against 37 defendants include bribery, embezzlement, money laundering and tax fraud, among others. The trial is expected to last until next spring.
The so-called Gürtel case (German translation of Correa's surname) triggered a political earthquake of such dimensions that today's deadlock can't be understood without taking it into account. Prime Minister Mariano Rajoy's ruling center-right People's Party is now considered a toxic party by its political rivals, hounded by a plethora of corruption cases.
The conservatives' problems revolve around the figure of Luis Bárcenas, a former treasurer of the party at a national level. He's accused of tax evasion to the tune of almost 50 million euros ($55 million), allegedly parked in Swiss bank accounts. He will also have to respond to allegations of misappropriating around 300,000 euros from his party's illegal funds. Although he was initially investigated separately, he's now considered an instrumental part of the Gürtel network.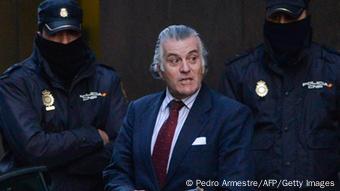 Bárcenas is believed to be at the heart of the case
Luis Bárcenas: Rajoy's link
Luis Bárcenas was the party's treasurer for just over a year (2008-2009), but before that he allegedly spent nearly two decades helping his predecessor, Álvaro Lapuerta, embezzling and laundering the conservatives' illegal funds. Lapuerta, 88, was initially accused, but has since been acquitted on grounds of insanity.
Well into this decade, corruption had already reached all the organic levels of the conservative party, from dozens of city halls to the national party's headquarters in Madrid, including regional delegations, particularly in Valencia and Madrid. Despite that, prior to 2012, Rajoy had not been personally linked with the network.
That would change on January 31, 2013, when the newspaper El País published the secret accounting books that Bárcenas and Lapuerta had kept since the early 1990s. In those books, Mariano Rajoy figured, among other ministers from the [Jose Maria] Aznar era [former conservative prime minister - the ed.], as the recipient of tens of thousands of euros that he supposedly never declared. However, the judge didn't consider them part of the corruption ring, so they weren't indicted.
In July 2013, the newspaper El Mundo published a series of text messages that the prime minister, Luis Bárcenas and the latter's wife had exchanged between 2011 to 2013, in which Rajoy expressed his friendship and support for the former treasurer and asked Bárcenas to "be strong." Rajoy assured the former treasurer that he "was doing everything he could."
In one of the messages, dated January 18, 2013, Rajoy advised Bárcenas to "stay strong." On January 25, Rajoy said that he couldn't remember the last time he was in touch with Bárcenas, despite the message exchange continuing until at least March.
Bárcenas' computers were destroyed in 2013. When the judge confiscated the hard drives, they had been formatted 35 times and scratched with a screwdriver. Because of that, the People's Party itself is now accused of destroying the evidence of its alleged illegal funding in a separate case.
Other high-ranking conservative officers are due to face the courts in the following months, including former Valencia Mayor Rita Barberá, former Baleares President Jaume Matas and former Madrid President Francisco Granados. Former finance minister and IMF boss Rodrigo Rato is already being tried at the National Court for alleged misappropriation when he was at the helm of Caja Madrid (the bank now known as Bankia).
PP is not alone
PP's corruption is the most widespread, but political wrongdoing is not exclusive of the conservatives. The Andalusian government, ruled by the Socialist party PSOE since 1978, is involved in an alleged embezzlement network. Former regional PMs Manuel Chaves and José Antonio Griñán have also been charged and will face trial.
The trial in the so-called Black Cards case involving Rato and the misuse of credit cards is also looking into misappropriation by politicians associated with PSOE and left-wing Izquierda Unida (IU), along with bankers, businessmen and union leaders.
The corruption cases have served to highlight the deep frustration among voters with the current political situation
These and other corruption cases are central to understanding the current Spanish political landscape. As voters have increasingly lost faith in the political generation that has led the country for the last 35 years, political wrongdoing involving the mainstream parties has given rise to parties like Podemos and Ciudadanos. If Mariano Rajoy wants another full term in government, he will have to keep a closer eye on his party this time.