Socialist leader Pedro Sanchez told Prime Minister Mariano Rajoy (pictured) during a parliamentary debate on Thursday that the premier should quit after a funding scandal engulfed his conservative People's Party (PP).
"Resign and everything will end," Sanchez said. "Your time is up."
Last week, National Court judges imposed hefty sentences on 29 people with links to the PP, including elected officials, and fined Rajoy's party for operating hidden accounts.
Retorting, Rajoy told parliament that the Socialists had lost two previous general elections under Sanchez's leadership and warned that a Sanchez government would endanger Spain's financial stability.
"Every time you open your mouth, the risk premium goes up," Rajoy told Sanchez.
Last year, Sanchez regained leadership of the center-left Socialists after an internal revolt.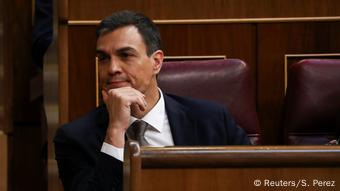 Sanchez urged Rajoy to quit ahead of Friday's scheduled vote
Outcome uncertain
Parliament's no-confidence vote — designed to oust the standing premier but also choose a replacement — remained unpredictable Thursday.
Sanchez needs an absolute majority, or 176 of 350 seats in the Congress of Deputies, to oust Rajoy.
The far-left Podemos is set to vote in Sanchez's favor, and the Basque Nationalist Party (PNV) announced late Thursday that it, too, would support the Socialist.
Basques are set to benefit from recent national budget negotiations, which Sanchez has promised to uphold.
Sanchez could become prime minister early next week, with the aim of calling a general election.
Refusing to support Sanchez's no-confidence motion is the Ciudadanos (Citizens) party, whose leader Albert Rivera wants a new election on a platform of more central control over Spain's self-governed regions. The party is an opponent of the Catalan separatist movement.
In power since 2011, Rajoy is credited with steering Spain out of its recession crisis. Opponents argue that this has come at the expense of austerity measures, persistently high (but falling) unemployment rates, and increased inequality.
ipj/msh (AP, Reuters)
Each evening at 1830 UTC, DW's editors send out a selection of the day's hard news and quality feature journalism. You can sign up to receive it directly here.