As part of a power-sharing agreement between conservatives and Socialists in Strasbourg, Spanish Socialist Josep Borrell was elected president of the European Parliament on Tuesday. As part of the deal, Borrell will lead for two years and be succeeded by the head of the conservative's parliamentary group, Hans-Gert Pöttering of Germany's Christian Democratic Union party.
The "grand coalition" for picking a president between the conservative Christian Democrat-aligned European People's Party and European Democrats in the European Parliament (EPP-ED) and the Social Democrat-aligned Party of European Socialists (PES) was forged by Pöttering and the head of the Socialist party group, Martin Schulz of Germany's Social Democratic Party. But many critics in parliament criticized the deal, brokered by two German politicians, as "wheeling and dealing."
A tradition of sharing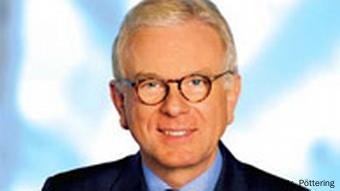 Hans-Gert Pöttering of Germany's Christian Democratic Union party is expected to succeed Borrell in 2.5 years
For his part, Pöttering (photo) has denied that any chess game was played over the posts. "In reality, the Socialists haven't had a president for seven-and-a-half years," Pöttering said. "If they were to be closed out of this election period, then they would go for 12.5 years. That has to be taken into account now. Overall, this agreement is going to lead to more stability in the European Parliament."
The sharing of the presidency is nothing new for the major parties in the European Parliament. In 1979, the liberal French parliamentarian Simone Weill assumed the office and then later handed the reigns over to Dutch Social Democrat Piet Dankert in a similar power-sharing agreement. And Borrell's predecessor was the liberal Irishman Pat Cox, who shared his office during that last legislative period with the conservative French parliamentarian Nicole Fontaine.
A newbie in Strasbourg
Unlike Cox, who was often praised for his competence and his talent for representing parliament to the outside world, Borrell has not previously served as a member of the EU's parliament. He was first elected to body in June and will be starting his career there in the top position.
Still, the Spaniard, who was born in 1947 in the Catalan Pyrenees, has served for years as a politician, holding Spanish ministry posts and elected office in the national parliament. The trained engineer and son of a poor baking family, also represented Spain at the European Convention last year, which was responsible for drafting the EU's constitution.
Borrell's politically formative years came at the end of Spain's military dictatorship in the mid-1970s, when he became deputy finance minister in then-Prime Minister Felipe Gonzalez's first Socialist cabinet.
"I belong to the generation of Spaniards who fought 30 years ago for a transition from the military dictatorship to democracy," Borrell recently explained. "Believe me, for Spanish society, Europe was always an example back then -- a goal that embodied political freedom, economic progress and social protection."
Raising parliament's profile
Just after the March government change in Spain, which saw the ouster of Jose Maria Aznar following the March 11 terrorist attacks on Madrid, Borrell ran for parliament as the Spanish Socialists' leading candidate, helping to deliver their best European election result ever. Nonetheless, he still acknowledges that voter interest in what happens in Strasbourg is low -- a fact underscored by sinking voter participation and the growing number of euroskeptics in parliament. But Borrell says he will seek to combat that by helping to spruce up parliament's image.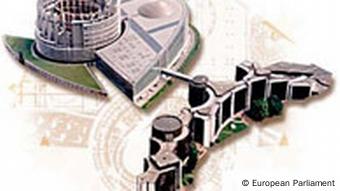 Though it's headquarters is built of glass, few Europeans know enough about its work.
"The European Parliament plays a fundamental role, even if many Europeans have yet recognized that," he said. "People would be interested in the things that we're doing here if they realized that it affects their daily life. Because in reality, it's already affecting them. We need to increase our efforts to raise awareness about this parliament as wells the constitution, which will hopefully be approved."