The soybean industry, vital for the production of foodstuffs and the animal feed industry, is set to take the biggest hit as a result of China's latest proposed retalitory tariffs on the US.
Soybeans, the biggest American agricultural export to China last year, have been targeted for several reasons. Soybeans are already native to large parts of China given the country's vast tropical and warm temperate regions, which already makes the growing of over 2,500 types of soybean possible.
Read more: China matches US $50 billion tariff threat
The United States, Brazil and Argentina lead the exports of soybean, with China and Japan being the leading importers. The Americas contribute to 55 percent of the world production of soybean. The US exports 37 percent of the world's soybean and the impact of such a levy on the US is clear.
Crude oil prices affect soybean prices and the relationship between the two is growing given the importance of soybean in the biofuel sector. High crude oil prices are favorable for soybean prices because of the profitability of biofuel production — but the cost of US crude oil took a hit on the news that China was targeting American soybean.
Soybean tariff to hit Illinois hardest
Furthermore, soybean has been targeted to strike at the heart of the Republican party. With the exception of Democrat-run Minnesota, soybean is an industry that affects US states governed by Republicans. Illinois, Iowa, Nebraska, Indiana, Missouri, Ohio, North Dakota, South Dakota and Arkansas are the top soybean producers in the US — and all are governed by the Republicans.
However, some experts have cast doubts over whether China can replace its reliance on American soybean, with the US currently exporting 62 percent of its soybeans to China.
"There simply aren't enough soybeans in the world outside of the US to meet China's needs," said Mark Williams, chief Asia economist at Capital Economics.
"As for reducing dependence on imports, there are a few options, but none is a magic bullet that could hurt US farmers without generating costs at home."
Illinois alone has at least 43,000 soybean farmers, but the impact will be felt in a number of related industries that are key to the state's prosperity, including biofuel, railroads and animal agriculture.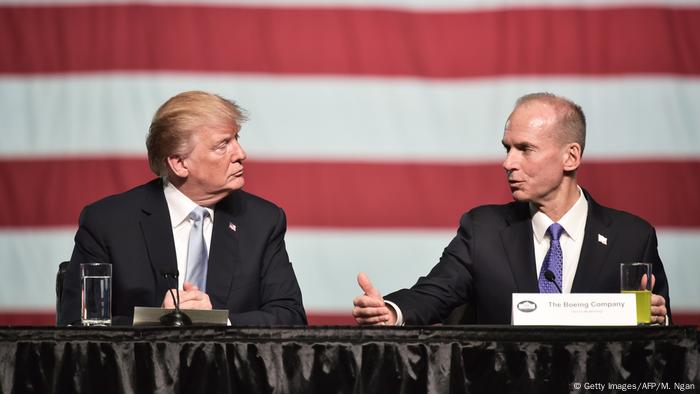 Donald Trump with Boeing CEO Dennis Mullenburg
Chicago-based Boeing targeted
Illinois, the home state of former president Barack Obama and currently governed by Republican millionaire Bruce Rauner, will feel the pinch from China's sanctions more than any other.
Not only is Illinois the biggest producer of soybean, but Chicago-based Boeing could suffer most from the 25-percent reciprocal tariff China has placed on US aircraft weighing between 15,000 and 45,000 kilograms.
This is bad news for Boeing, with more than a quarter of its global delivery in 2017 going to China. Shares fell up to 5 percent on the New York Stock Exchange on the news, while Boeing's France-based rival Airbus would be perfectly placed to benefit.
China is on course to usurp the US as the world's biggest travel market, with 921 million more passengers set to travel to, from and within China by air by the year 2036. To facilitate this growth, it is estimated that China will need more than 7,000 new planes at a value of around $1 trillion (€810,000 billion).
China Eastern Airlines is currently Boeing's fifth-largest customer, behind Ryanair, Southwest Airlines, Turkish Airlines and American Airlines.
Car tariff threatens Michigan jobs
There has been a steady trend towards overseas car companies to manufacture their cars in China to avoid the hefty import charge of 21 to 30 percent that already exists. This makes China's decision to include the automotive industry in its latest round of retaliatory tariffs a strategic move to accelerate that shift.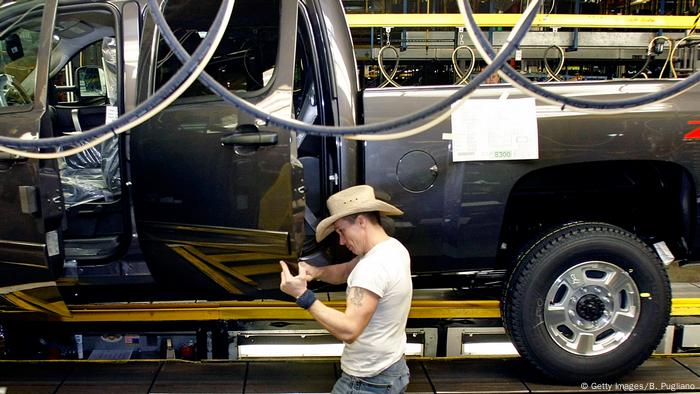 GM's Assembly Plant in Flint, Michigan
This trade model has seen General Motors' business in China grow by 13 percent in in the past year, with one in 10 cars sold in China a GM. This equates to 3.9 million cars, a figure that eclipses the three million GM cars sold in the US during the same period.
Ford earned $1.5 billion in China in 2017 and the company estimates it has 4.2 percent of the Chinese market. This suggest that the latest round of Chinese tariffs will not impact too greatly on the industry, but rather could encourage more US car companies to entrench its manufacturing within China, which of course protects Chinese jobs in the sector.
While the tariffs are unlikely to seriously damage the profits of US car companies, it threatens American manufacturing jobs in the sector. And where are GM's largest plants located? The state of Michigan, governed by Republican Rick Snyder.