In the run-up to the 2009 presidential election in South Africa, Jacob Zuma was simultaneously battling allegations of rape and corruption. He has been in and out of court ever since. His problems began four years earlier.
June 2005: He was charged with corruption for allegedly accepting bribes from French arms company Thint Holdings. The 783 charges of money-laundering and racketeering stemmed from a controversial $5 billion (€4 million) arms deal signed in 1999.
December 2005: He was charged with raping an HIV-positive family friend.
April 2006: Zuma was acquitted of rape but the fact he told the court that he had showered in order to avoid catching HIV would continue to haunt him throughout his presidency.
September 2006: His corruption trial was struck from the court list when the prosecution asked for yet another delay to gather evidence.
November 2007: The court of appeal opened the way for charges to be brought again.
December 2007: The African National Congress(ANC) elected Zuma as party leader over Thabo Mbeki in a bitter contest, thus making him the favorite to become South Africa's next president after elections due in 2009.
June 2008: Zuma filed papers to have his prosecution declared invalid and unconstitutional. He revealed that if the application failed he would make a second application for a permanent stay of prosecution.
September 2008: The court declared that the prosecution was invalid and threw out the charges on a legal technicality, stressing this had no bearing on Mr. Zuma's guilt or otherwise.
Five days later, the National Prosecuting Authority said that it would appeal, sparking fury within the ANC.
The ANC then forced Thabo Mbeki to resign as president.
January 2009: The appeals court overturned the previous ruling, opening the way for Zuma's trial to be resumed, just months before general elections.
Zuma on the way to power
April 2009: South Africa's chief prosecutor announced that charges against Zuma were being dropped after phone-tap evidence showed there had been political interference in the investigation.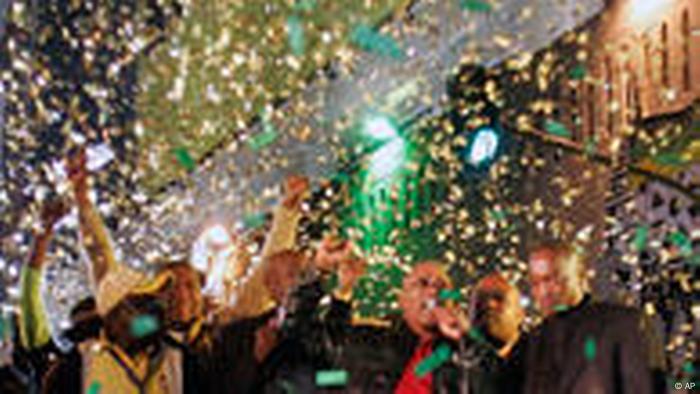 Jacob Zuma celebrating his election victory als president of South Africa 2009
May 2009: Zuma became president of South Africa. His supporters saw his popular touch as a refreshing contrast to his predecessor Thabo Mbeki, who was seen as rather aloof. Zuma promised to fight corruption.
February 2010: Zuma admitted to fathering a child out of wedlock with the daughter of the head of South Africa's World Cup organizing committee.
December 2010: Zuma filed a $700,000 defamation lawsuit over a 2008 political cartoon which portrayed him raping a female figure symbolizing justice.
March 2012: The Supreme Court of Appeal ruled that the Democratic Alliance (the largest opposition party) could challenge a previous court's decision to drop corruption charges against Zuma.
December 2012: Zuma was re-elected head of the ANC.
December 2013: Zuma's image as "the people's president" quickly started to fade following the upgrading of his residence in the rural area of Nkandla in northern KwaZulu-Natal, using state funds amounting to 246 million Rand.(€16.7million, $20.5 million). An official inquiry cleared him of any wrongdoing.
December 2013: During a memorial ceremony for South Africa's first black president, Nelson Mandela, ANC supporters openly heckled and booed Zuma in front of foreign dignitaries, including US President Barack Obama.
May 2014: Zuma was re-elected as president of South Africa for a second term.
Read more: From poverty to presidency: South Africa's embattled leader Jacob Zuma
March 2014: Public Protector Thuli Madonsela's final report on security upgrades to the Nkandla compound, entitled "Secure in Comfort," was published, despite Zuma's attempts to have it blocked through court proceedings.
December 2015: In a surprise move, Zuma fired Finance Minister Nhlanhla Nene and replaced him with the unknown back bencher David van Rooyen. Only four days later, he had to reverse his strategy due to public outcry and re-appointed former Finance Minister Pravin Gordhan, whom he then fired in 2017. Gordhan was replaced by Zuma's loyalist Malusi Gigaba.
June 2015: The government in Pretoria allowed visiting Sudanese President Omar al-Bashir to leave the country despite an arrest warrant from the International Criminal Court in The Hague. The decision by South Africa not to arrest Bashir sparked international condemnation which was met with a threat by Zuma's government to withdraw its membership of the ICC.
March 2016: South Africa's highest court ruled that Zuma breached his oath of office by using government money to upgrade his private home in Nkandla in 2013. Zuma apologised to South Africans for the "frustration and confusion" caused by the scandal. The constitutional court ruled he had to pay back 7.8 million Rand - a portion of the tax money spent on installing non-security features at Nkandla.
'Guptagate' breaks
July 2017: A new scandal that quickly came to be known as "Guptagate" came to light. Allegations of high-level corruption under Zuma's rule were fuelled by a huge leak of confidential emails showing that the Indian-born Gupta family had used their influence to appoint cabinet ministers and benefit from government contracts.
Read more: South Africa's power family, the Guptas: What you need to know
August 2017: Zuma survived a no confidence motion in South Africa's parliament. For the first time, the vote was conducted by secret ballot. He survived by just 21 votes, a result that indicates that at least 26 ANC members had voted in favor of the motion.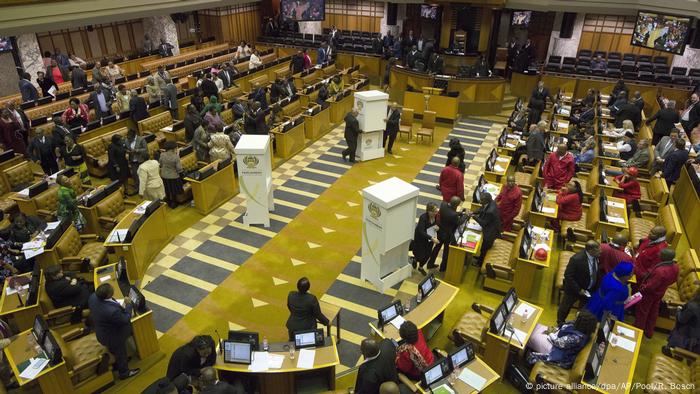 Preparations for a vote of no confidence against President Zuma in parliament in August 2017
October 2017: The supreme court ruled that 18 counts of corruption from the arms deal should be reinstated.
December 2017: Zuma is replaced as ANC leader by Vice President Cyril Ramaphosa.
Read more: Opinion: South Africa's ANC chooses pragmatism over corruption
January 2018: Zuma approved the inquiry into allegations of corruption and "state capture."
February 2018: A further motion of no-confidence was filed by the opposition days before Zuma was due to give the annual State of the Nation address . He resigned before the vote was due to be held after the ANC announced it would back the motion.