"The trend we see is very often and in times of confidence in South Africa going down, whether it's the land issue currently or whether it's the issue before with the electricity or with the crime or corruption," says Angel Jones from the South African headhunting agency Homecoming Revolution. It assists companies looking to recruit South African professionals living abroad. "Every time there's a bit of a wave in confidence, we see South Africans wanting to take out what we call an insurance package," she tells DW.
According to the South African analytics consultancy Eighty20, around 900,000 South Africans currently live in the diaspora. The United Kingdon hosts the largest South African community (210,000), followed by Australia (190,000), the United States (100,000), New Zealand (60,000) and Canada (50,000). South Africa's interior ministry does not publish its own figures about citizens leaving or returning to the country.
Homecoming Revolution generally takes its analyses from its connections to relocation firms, private colleges and other sources. The political situation is generally a strong push factor, says Jones. In 2015, when then president Jacob Zuma sacked the finance minister there was a wave of applications for foreign passports.
Read more: South Africa drops finance minister in connection to state capture scandal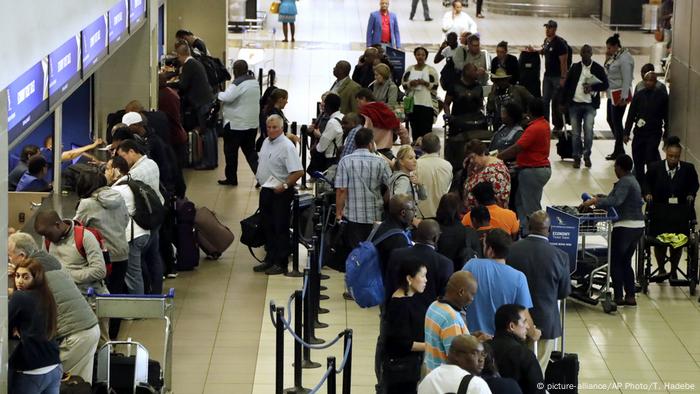 Many South Africans don't actually want to leave for good, the consultants say
The love-hate relationship to South Africa
"We see these flows of people coming and going all the time and I think South Africa is always on this rollercoaster of the good and the bad," says Jones. "But we have recovered many times before and we will see ourselves."
The issue of land is especially contentious. White South Africans, who make up only 10 percent of the population, still own up to 72 percent of the agricultural land. Parts of the opposition and South Africans experiencing economic hardship are demanding a faster redistribution of the land. The ruling African National Congress (ANC) has announced plans for constitutional reforms, which would allow land expropriation without compensation.
Read more: Moody's downgrades South Africa over politics, debts
Jones thinks President Cyril Ramaphosa is trying to appease both investors and the calls for land restitution. "It would be better if he was clearer on the land question," she tells DW. Until recently, many South Africans saw Ramaphosa as successful businessman and a more reliable leader. When Ramaphosa took office earlier this year, the number of people returning from the diaspora tripled, according to Homecoming Revolution's sources.


The consequences of brain drain
Career opportunities abroad are particularly attractive to young South Africans, says Jones. This has , however, led to a brain drain. Young teachers, for instance, have good job opportunities in the United Arab Emirates, but there is a shortage of teachers at South African schools. Jonty Leon, a manager at the South African company Financial Emigration views this as a major problem. "We're losing our doctors, engineers, lawyers and finance experts. Those are top earners and important taxpayers," Leon says.
Older South African men also often emigrate. The common denominator: they have money and can buy their way to a legal entry into Europe. "South African clients I meet with are definitely not always looking to relocate but to invest in a plan B," says Amanda Smit, who heads the Cape Town office of the London-based consultancy Henley Partners, which deals with residence permits and citizenship applications.
Read more:Zuma exit lifts South African stocks
Dream destination Moldova?
In Smit's office, the number of applications for dual citizenship has risen by 229 percent in the past year alone. Around 55 percent of the applicants are white South Africans and 45 percent black. At first glance, the most sought for countries on the list are surprising: Malta, Cyprus, the Republic of Moldova and Portugal. The underlying reason is obvious. It's relatively easy to obtain citizenship from these countries. "You can get your citizenship by investing in the country or buying property. The criteria vary," Smit tells DW.
"South Africans recognize of course that dual citizenship or residency provides benefits for them and their families, which includes ease of travel, securities for the future and expansion of business and banking opportunities," says Smit. The South African passport lets you travel to 102 countries visa-free, but that doesn't include economic hubs like the US, the UK and the European Schengen area. Many of the people don't actually want to leave, Smit insists, but they want options.