Berlin police said they were investigating "in all directions" Wednesday after a man attending a public lecture fatally stabbed Fritz von Weizsäcker, a son of the late Richard von Weizsäcker — the West German president and then German president between 1984 and 1994.
Fritz von Weizsäcker was stabbed to death on Tuesday evening while giving a lecture attended by some 20 people at the Schlosspark hospital in the western Berlin neighborhood of Charlottenburg, where von Weizsäcker is a senior internal medicine specialist.
Police apprehended the attacker with the help of members of the crowd. The 57-year-old suspect was "previously unknown" to authorities, said police, suggesting he had no prior criminal record.
The suspect was sent to a psychiatric unit later on Wednesday, described as having an "acute psychological illness."
One other person, an off-duty police officer in the audience, was also seriously injured while trying to stop the attacker. The officer was taken to a different hospital to receive treatment, Berlin's fire department said on Twitter.
The Schlosspark hospital regularly holds events that are open to members of the public. The private clinic includes departments for gastroenterology, cardiology, orthopedics, plastic surgery, neurology and psychiatry.
A murder investigation has been opened and investigators were at the scene taking statements from audience members and employees, authorities said.
Read more: Opinion: The speech about history that made history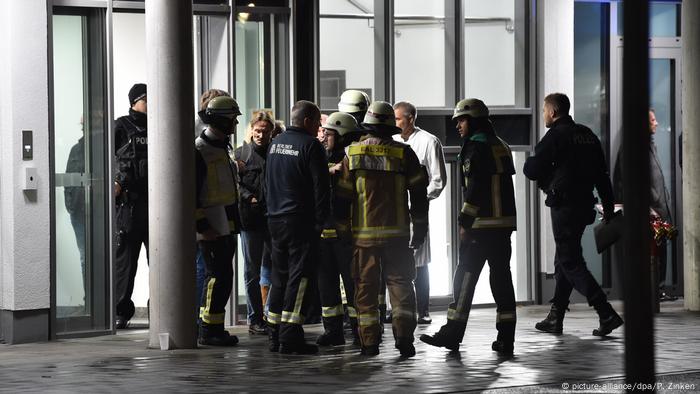 People attending von Weizsäcker's talk were able to apprehend a suspect in the stabbing
'Stunned' by killing
Chancellor Angela Merkel expressed her condolences to Fritz von Weizsäcker's widow, her spokesman said.
"We don't know much about what happened here in Berlin last night,'' spokesman Steffen Seibert said in Berlin. "It's a horrible blow to the von Weizsäcker family and the chancellor's condolences, and certainly also those of all the members of the government, go to the widow, to the entire family.''
Christian Lindner, the leader of Germany's Free Democratic Party, said he was "stunned" by the killing.
"My friend Fritz von Weizsäcker was stabbed today in Berlin. A passionate doctor and a fine person," Lindner wrote. "He was just over at our house for a barbecue. I am stunned and must share my sadness. Once more you ask yourself, in what world do we live."
Von Weizsäcker had a long career in medicine. He studied in Bonn and Heidelberg, followed by career steps in Freiburg in southern Germany, Boston and Zurich, according to Schlosspark's website.
His sister Beatrice von Weizsäcker, a lawyer and journalist, posted a picture of Jesus on the Cross on Instagram after the murder of her brother.
Fritz von Weizsäcker was one of four children of Richard von Weizsäcker, a veteran of Germany's Christian Democrats, now headed in a grand coalition cabinet by Chancellor Angela Merkel; Richard von Weizsacker served as German president from 1984 to 1994 and passed away in 2015.
Berlin's mayor between 1981 and 1984 — during Germany's Cold War division — Richard von Weizsäcker oversaw the fall of the Berlin Wall and German reunification as federal president. He was also a prominent synodic member of Germany's EKD Protestant Church in the 1960s and 70s.
In 1985, then as West German president, von Weizsäcker called the Nazi defeat Germany's "day of liberation" in a speech marking the 40th anniversary of World War Two's end.
His speech is often cited by politicians and taught in schools.
ipj, dv/sms (AFP, dpa)
DW sends out a daily selection of hard news and quality feature journalism. Sign up here.