A German court is set to prosecute a group of Somalis accused of piracy in connection with the hijacking of a German container ship known as the MS Taipan. Ten suspects are currently being held by Dutch marines, who freed the ship on April 4 in the Gulf of Aden.
Germany was warned by Dutch Defense Minister Eimert van Middelkoop that the suspects would have to be let go if they could not be passed on to German authorities.
On Monday, a court in Hamburg issued arrest warrants for the alleged pirates. Bernd Mauruschat, a spokesman for Hamburg's public prosecutor's office, told Deutsche Welle that the group would face trial there because that was the home port of the ship that was attacked.
"It was also flying a German flag so therefore we have to register it here," Mauruschat said.
If all runs according to plan, this would be the first prosecution of Somali pirates in a German court.
Long term solution?
There is a debate on whether prosecuting individual suspected pirates in Germany will be of any use in efforts to tackle the larger problem of piracy in the Gulf of Aden.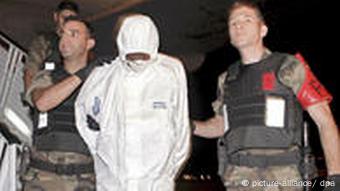 Some argue that the focus should be on the organizers of piracy
Ulrich Delius, from the Africa desk of the Society for Threatened Peoples, compared the challenge of combating pirate groups to taking on organized crime organizations. Rather than go after the foot soldiers, Delius suggested that the international community focus on taking down the masterminds of pirate operations.
"If you're only putting fishermen on trial, you will have 10 or 20 more replacing them the next day," Delius told Deutsche Welle. "We have to fight against those who are financing and arming pirates and organizing the attacks."
Delius added that many of those who organize piracy in the Gulf of Aden often operate outside of Somalia in places such as Dubai, Saudi Arabia, and London, but action against them has yet to be seen.
Political asylum
Another concern is whether pirates tried and sentenced to prison in Germany would apply for political asylum once they leave prison.
Bernd Mauruschat of Hamburg's public prosecutor's office said they would have the option to do so, since all foreigners in Germany have the right to do so. But he could not say whether or not their applications would be successful.
"It is not up to the public prosecutor's office, but rather the foreign registration office," Mauruschat said.
In order to keep a potential line of Somali pirates applying for asylum short, Ulrich Delius of the Society of Frightened Peoples says more attention should be given to economic development and job creation on the ground in Somalia.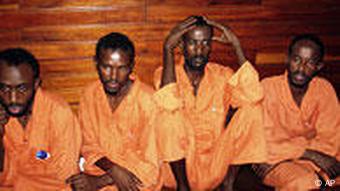 Some worry pirates will apply for asylum in Germany
"We need more reconstruction on the land, in Somalia itself," Delius said. "If the international community contributed more, then it would be possible to show these fishermen alternatives to the piracy business."
It is not clear how long the process of extraditing the pirates to Germany will take, but if found guilty, they could fade between five and 15 years in German prisons.
Author: Matthew Kang
Editor: Chuck Penfold