Former Germany international and women's team coach Silvia Neid doesn't believe a female coach would be accepted in the men's Bundesliga.
"When I was asked about the chances of that happening 10 years ago, I thought the time might be ripe in 10 years' time," she says, writing for The Coach's Voice on Thursday. "But nothing has really changed. It would be a lie to say the battle is over."
Neid, 54, won all there is to win in a glittering 36-year career in women's senior football, as a player for SC Klinge Seckach (1980-83), SSG Bergisch Gladbach (1983-85) and TSV Siegen (1985-96), as assistant coach of the national team (1996-2005) and as German head coach (2005-16).
Currently working as director of scouting and junior teams for the German football association (DFB), she says she would be interested in a return to coaching, either in the women's game or the men's, but she doesn't believe the latter would be feasible.
"I don't think a woman would be accepted in the Bundesliga or Bundesliga 2," she says. "We need someone to break the mould and trust a woman in such a position. We're still playing catch-up when it comes to positions of power. Not just in football. We earn less, too."
- Read more: Germany win gold in women's soccer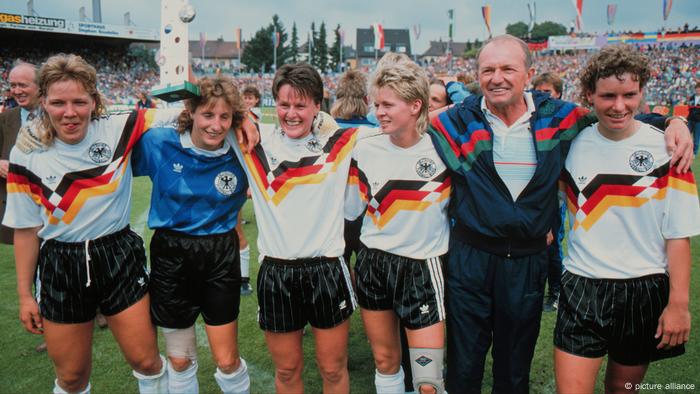 Neid, third from right, was part of Germany's 1989 European Championship winning side.
'I wanted to play football, not pose in the nude.'
Throughout her career, Neid became sadly familiar with sexism in the game. As a 17-year-old, she came on as a substitute in the German women's national team's first ever game against Switzerland in Koblenz in 1982.
"From the get-go, silly comparisons were made to the men's national team," she recalls. "The media didn't have the faintest idea about women's football. I even had an offer from Playboy magazine. What was the point of that, I wondered. I wanted to play football, not pose in the nude."
She describes how many men among the 5,000 supporters who turned up for that inaugural game told reporters they were "waiting for them to swap shirts at the end of the game."
"That kind of stuff went on for decades," she says. "I thought to myself: aren't there any other places to go to see topless women? But, after a while, I stopped paying attention to such nonsense."
As the women's game went from strength to strength, Neid was there every step of the way and was part of the team which won the European Championships in 1989, a moment she describes as the "breakthrough for the women's game."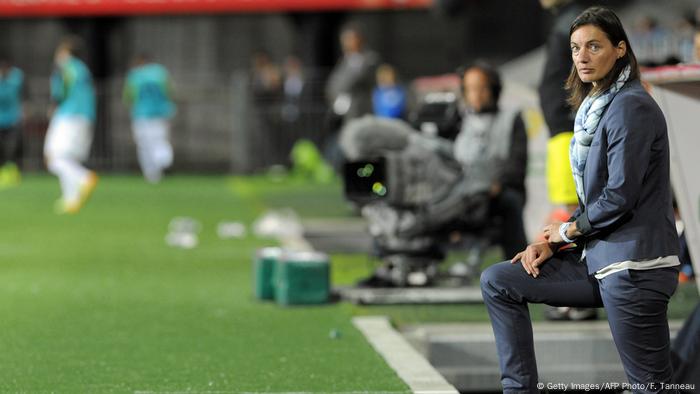 Corinne Diacre was head coach of French side Clermont Foot.
"For the first time, women's football was respected and accepted," she says, but she and her teammates were also conscious of inequalities in the sport. "We were envious of the men's set-up," she admits. "But there was simply no point holding a grudge."
Unlike in France, where Corinne Diacre made history when she took charge of men's second division side Clermont Foot for three years from 2014-2017, becoming the first woman to coach a professional French men's side, no such breakthrough has yet occurred in Germany.
Do I want to go back to coaching? Right now, I'm not really sure," she says. "If I did, coaching a women's team or a men's team would be of equal interest. But As I said before: the battle continues."