Following several months of grueling and often contradictory testimony in Bonn's district court, the public prosecutor on Tuesday called for the main suspect in the assault on Niklas to be acquitted.
Public prosecutor Florian Gessler told the court he could not be absolutely certain that the 21-year-old in the dock, Walid S., was the man who attacked 17-year-old Niklas in May last year. In a surprise twist, another man has entered the picture as a suspect.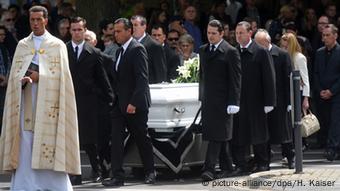 Hundreds attended the 17-year-old's funeral
Gessler acknowledged that the whole situation was unsatisfactory and expressed his personal sorrow for Niklas' mother.
"I can imagine how important it is that you know who killed your son," he told her.
Niklas died in hospital in May 2016, a few days after being hit in the head, and then kicked in the head, on a street in the Bonn suburb of Bad Godesberg. The teenage student was on his way home from a concert with friends. After the attack, he fell into a coma. The brutality of the tragedy sparked nationwide concern - street attacks of this nature are relatively rare in Germany.
The charge - bodily injury resulting in death - was revised from homicide earlier in the process because, according to the investigation, blood vessels in Niklas's brain were damaged before the attack and this caused the assault to become fatal.
Blurred memories, lingering questions
Both the prosecution and defense agreed that many of the witnesses who took the stand since the trial opened in January had not told the truth - many spoke of blurred memories.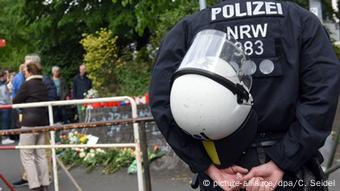 The attack sparked nationwide concern
"I'm 100 percent convinced that most of them know exactly who killed Niklas, but don't want to say it due to a completely false sense of honor and solidarity," Gessler said.
Walid S., who was 20 when Niklas was killed, had always denied being at the scene. His lawyer also pled for him to be acquitted. However, Walid S. had acknowledged taking part in another assault a few days before the attack on Niklas. In relation to that case, the state prosecutor called for him to be given a 12-month juvenile sentence on parole for grievous bodily harm, his defense lawyer called for him to be detained for several weeks.
A verdict in the trial is expected next week.
se/rc (dpa, AFP)