A man with a full beard is replacing a broken window in a small bread shop in the center of Moscow. "The window was destroyed by 'pidarasam,'" he says grimly, using a vulgar Russian-language word for homosexuals. The same homophobic term of abuse can be seen behind the broken glass on a wooden panel that apparently was the target of the attack. "Entry for 'pidarasam' forbidden" reads the writing in curved, old Cyrillic letters. This incident, which took place at the end of May, was not the first of its kind, says a young salesgirl, speaking in a low voice.
Since April, the organic bread store chain set up by Russian entrepreneur German Sterligov - which is named after him - has been trying to attract customers with homophobic messaging. Initially, it began in St. Petersburg. Later on, it emerged in a dozen Sterligov bread shops across the country, including the capital, Moscow.
A former millionaire with bizarre views
Sterligov, born in 1966, is a businessman who, some years ago, was often portrayed as a deadbeat, including by foreign media. As a co-founder of the first stock exchange in the Soviet Union's twilight years, he became a millionnaire, tried his hand in politics and ran, among other things, for the office of mayor of Moscow. He failed, lost a lot of money and moved to a rural area in order to devote himself to his rather large family and organic agriculture. His trademark: food produced using pre-industrial methods. His products, however, are no bargain: Yesterday's loaf of bread is available for the equivalent of 10 euros ($11.22). For a fresh loaf, customers have to fork out double or even triple that amount.
German Sterligov is known for his right-wing conservative views
Time and again, Sterligov made headlines due to his bizarre lifestyle and right-wing conservative, Christian ultra-orthodox views. He is a staunch opponent of abortion, for example, and rails at doctors and scientists in general. His latest idea: Switch off power around the globe, in order to preserve nature.
Discrimination tolerated
By installing anti-gay messaging in his shops, Sterligov has violated Russian laws, several experts told DW. Rabble-rousing and extremism is prohibited in the constitution, and this was supported by corresponding articles in the country's criminal law, says Alexander Yermolenko, an associate in a Moscow-based law firm.
This view is echoed by human rights activist Svetlana Gannushkina. Everyone has the right to file a complaint with the public prosecutor's office, she says, adding: "A complaint could definitely be successful, because this is a case of pure discrimination and a violation of the constitution."
However, Yermolenko points out that those legal norms have not been applied unilaterally thus far, for example when it came to cracking down on extremist organizations.
"There is a common understanding according to which it is allowed to discriminate against a certain group of people," he says. "That's how it is in Russia, and Sterligov understands this very well."
Bias on the rise
The bias against the LGBTQ community - which is traditionally strong in Russia - has gained momentum in recent years. In 2013, parliament passed a law which hands down substantial fines for spreading "gay propaganda" to minors. The bill drew heavy criticism internationally.
More recently, reports that gay men in the North Caucasus region of Chechnya were being specifically targeted for persecution and mistreatment made headlines around the globe. Both German Chancellor Angela Merkel and the new French president Emmanuel Macron addressed the issue during their respective meetings with Russian President Vladimir Putin in May. Putin apparently announced he would launch an investigation into the allegations.
Putin's crude banter
But other recent statements made by the Russian president on that particular subject are raising eyebrows. In his four-hour documentary series "The Putin Interviews", Hollywood director Oliver Stone asked the Russian president about the controversial law against "gay propaganda." Putin denied that the bill curtailed the rights of homosexuals. Stone later asked Putin what he'd do if he was forced to take a shower with a gay man on board a submarine. "I'd prefer not to take a shower with him," Putin said, laughing: "Why should I provoke him? But, you know, I'm a judo champion."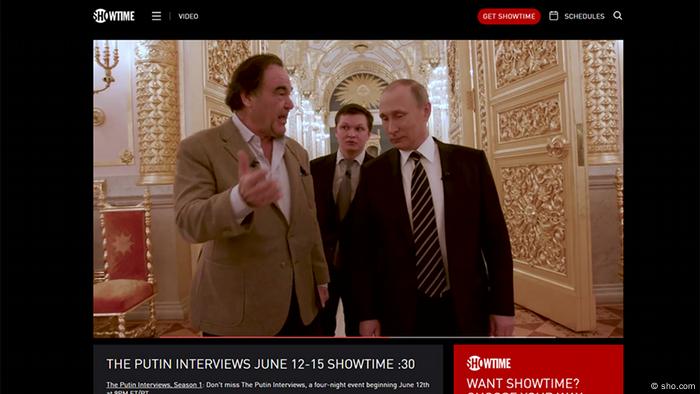 Stone's 'Putin Interviews' series is set to air later this month in the US
Russia has by now become used to the president's peculiar sense of humor, says columnist Oleg Kashin, adding this sort of humor originated from the gutters of Leningrad, today's St. Petersburg, where Putin was raised. Still, Putin's recent statement came as a surprise to Kashin. As a role model for civil servants on all levels, the president should pay more attention to his choice of words, he says.