Perhaps Poland's most famous classical composer, Frederic Chopin put his heart into his compositions, many of which were based on Polish folk melodies and helped give voice to the country's blossoming nationalism in the early 19th century.
But he also put his heart into what appears to be cognac — and now Polish scientists believe that they have been able to conclude from the pickled organ that Chopin died of tuberculosis (TB), countering a 10-year-old theory that his death at 39 was due to cystic fibrosis.
An early version of the article "A Closer Look at Frederic Chopin's Cause of Death," set to be published in full in February 2018 in the American Journal of Medicine, reveals that the Polish team of scientists, headed by Michal Witt, used high-resolution photographs of Chopin's heart to come to their determination.
"We can say that it is highly possible that it was tuberculosis" that caused the composer's death in 1849 in France, where he was living in exile, Witt told AFP. The photos revealed a fine layer of white fibrous material on Chopin's heart as well as small lesions, Witt said. These are typical signs of the pulmonary illness TB that tends to cause death by one's late thirties.
The paper's upcoming publication will also include a photograph of Chopin's heart, which has been preserved for the last 168 years in a glass jar that is now housed in a stone column in the Holy Cross Church in Warsaw, Poland. The scientists did not open the jar.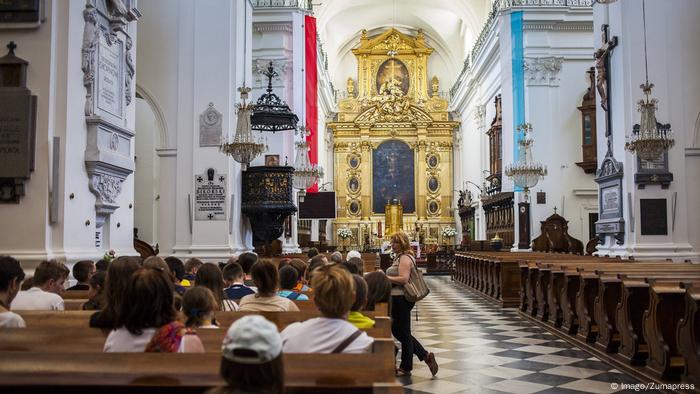 Chopin's heart is in a pillar at the ornate baroque Holy Cross Church in Warsaw
A frail musician
Chopin suffered from poor health throughout his lifetime. According to AFP, records show that as an adult, he weighed a mere 88 pounds (40 kilograms) for his height of 5 feet 7 inches (1.7 meters).
Chronic underweight is a symptom of cystic fibrosis. In 2008, Polish medical experts first floated the idea that the composer might have died of this hereditary disease and not of TB, as had long been rumored.
While Witt admitted to AFP that it is still debatable whether the polish composer suffered from cystic fibrosis, he said "the likelihood that it was tuberculosis rather than cystic fibrosis is far, far higher."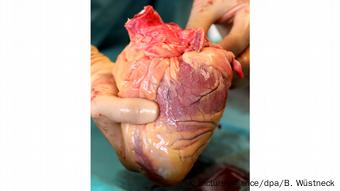 Chopin's heart would have looked something like this human heart above
DNA tests would have to be run on Chopin's heart to test for cystic fibrosis, a procedure which the Polish culture ministry ruled out in 2008 for fear of damaging the pickled heart.
Without genetic tests, it is also impossible to prove with 100 percent certainty that the heart suspended in the amber-brown liquid is, in fact, Chopin's. However, the timeline of the composer's life and his burial wishes seems to indicate that the organ is his.
A dying man's fears and wishes
Born in 1810 near Warsaw, Chopin fled to France in 1831 after nationalist uprisings against the Russian Empire. Out of fear of being buried alive, he requested that his body be cut open after death and his heart returned to Warsaw. It is rumored that his sister Ludwika smuggled the lifeless organ past Russian guards to bring it back to Poland and to the Church of the Holy Cross.
The stone is emblazoned with the words, "Here rests the heart of Frederick Chopin."
During World War II, the jar was briefly removed from the pillar and placed in the hands of Nazi officials. It was returned to its church pillar after the war. Chopin's body lies in Paris.
As to the liquid surrounding Chopin's heart in the jar, the scientists were not able to provide evidence that it is the famous French brandy. However, Witt told AFP: "It's highly possible that it is cognac. Since the French Revolution, cognac has been used as a preservation fluid in France."