Frederic Chopin was abroad when military conflict broke out between Poland and Russia in 1830. He then settled in Paris, never to return to his home country. The exiled composer spent much of his time writing emotional letters to his family back in Poland.
Not only is his homesickness expressed in the celebrated composer's piano music, it is also underscored in his personal correspondence, said musicologist Monika Strugala of the National Chopin Institute in Warsaw.
"Chopin missed his country, which he left without knowing that he would never come back," she said. "He was very nostalgic, very sad, but he was also patriotic." Strugala added that Chopin incorporated memories from his childhood into his music.
Multimedia narratives
Now, the Warsaw-based Chopin Museum - which opened in 2010 - is able to shed more light on the composer's personal life thanks to the acquisition of six newly discovered letters he wrote to those he had left behind in Poland.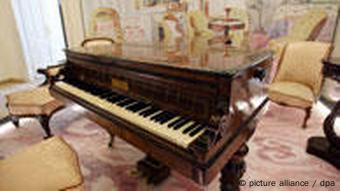 The Chopin Museum was revamped last year
The collection, donated by a Polish Chopin enthusiast, also includes letters written by Chopin's sister to a friend in England, which focus on the artist's final, tragic years, when he struggled with tuberculosis at the peak of his creative powers.
Curator Alicja Knast described the find as priceless and the most exciting discovery in Polish musicology in decades. She said the letters are a welcome addition to the museum's interactive, multimedia collection, which consists of a "narrative line" based on the composer's letters, as well as audio files and soundscapes.
"The museum aims to bring Frederic Chopin to people's attention by bridging the gap between the past and present," she said. "We try to forget that we [are now living] 200 years after he was born - and are trying to reach out to souls and touch emotions."
A different sensibility
In recent weeks, Chopin has been in the news in Poland for less poetic reasons. A much hyped discovery of a rare photograph of the artist on his death bed was found to be a fake.
In another development, a Polish foreign ministry-sponsored Chopin promotional campaign backfired when a comic book about the composer aimed at younger readers in Germany turned out to contain plenty of rude words and even racial slurs.
The authors tried to defend the book by saying their intention was to make Chopin hip, but one critic quipped that, instead, it was bound to make the composer turn in his grave. The publication was relegated to the scrap heap.
Author: Rafal Kiepuszewski, Warsaw / als
Editor: Kate Bowen