Schröder said before a meeting of his Social Democrats that he would accept any decision his party made on whether he should continue to fight conservative rival Angela Merkel to claim a third term as German leader.
"This is not about my prerogatives and absolutely not about me as a person," Schröder told RTL television when asked about his and Merkel's competing claims to the chancellery.
"It is about my party's prerogative for political leadership. I will accept any decision," he said. "I do not want to stand in the way of a development that allows the continuation of the (economic) reforms I initiated and the formation of a stable government in Germany."
The Social Democrats were meeting after the final district in Germany voted against them Sunday in a delayed ballot for the inconclusive general election, widening the conservatives' lead in parliament to four seats.
The vote was expected to have a psychological impact on the parties amid exploratory talks on forming a left-right "grand coalition," last seen in Germany in the late 1960s, and primarily on the question of who should be chancellor.
Schröder adamant until now
Since election night on Sept. 18, Schröder has insisted that the knife-edge result showed that voters were uncomfortable with the idea of Merkel as chancellor after months in which she was flying high in the polls.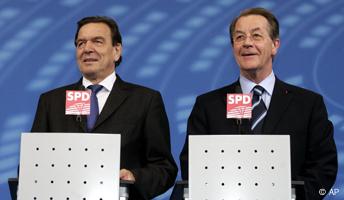 Schröder, left, and the SPD Chairman Franz Müntefering
He said the Social Democrats' come-from-behind result to near parity with the Christian Democrats showed that Germans wanted him as their leader, even if his seven-year coalition with the Greens had been voted out.
He had vowed on election night that he would not let his party join any government led by Angela Merkel, the leader of the conservative Christian Democrats.
However, the statements by Schröder on Monday seemed to confirm speculation that the SPD was using the chancellor as a bargaining chip to gain leverage in possible talks about any "grand coalition," which are sure to be contentious.
In fact, SPD chairman Franz Müntefering had earlier signaled a willingness for compromise over the chancellor question. He said the Social Democrats wanted a "grand coalition" led by Schröder, but that the demand was negotiable.
But on Monday evening, Münterfering reiterated that the ultimate goal of the party was still to be part of a government led by Schröder. He said the party had no plans to dump him and would hold their ground, at least until coalition negotiations formally begin.
"That is the basis upon which we will enter the negotiations," he said.
CDU wants "productive" talks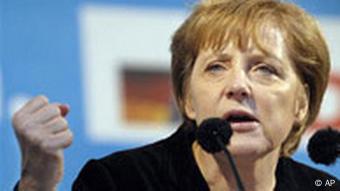 German Chancellor candidate and Chairwoman of the German party Christian Democratic Union, Angela Merkel, speaks to her audience during an election campaign event in the city of Dresden, eastern Germany, Friday, Sept. 30, 2005. (AP Photo/Christian Seeling)
Merkel, for her part, has been stunned by Schröder's decision to cling to power and insisted that as the leader of the biggest parliamentary group it is her right to become Germany's first woman leader.
Conservatives had speculated that Schröder would opt to step aside after the last district had voted Sunday, a rumor Schröder spokesman dismissed over the weekend as "total nonsense."
The two parties were to meet Wednesday for a third round of talks on whether to begin formal negotiations on a grand coalition.
After attending a German Unification Day event in Potsdam, Merkel said she was optimistic that Sunday's final chapter, with the election in Dresden, would pave the way for productive talks.
"It's a good result for the CDU and I'm counting on forces of reason in the SPD to come forward now so that things can proceed in an orderly manner," Merkel said.