The Saudi-led coalition fighting Houthi rebels in Yemen accused Iran on Monday of supplying the ballistic missile that targeted Riyadh, saying it could be considered an act of war.
Saturday's missile launch is considered "a blatant act of military aggression by the Iranian regime, and could rise to be considered as an act of war against the Kingdom of Saudi Arabia," the coalition said in a statement on the official Saudi Press Agency.
The statement said the kingdom "reserves its right to respond to Iran in the appropriate time and manner."
On Saturday evening, Saudi Arabia's air defense forces intercepted a variant of the Volcano-1 ballistic missile fired from Yemen toward the King Khalid International Airport near the capital. No casualties or damage was reported.
Media tied to Houthi rebels claimed a short-range missile had been fired in response to "Saudi-American aggression and crimes against the people of Yemen."
In the statement, the Saudi-led coalition said it had examined the missile debris that landed in an uninhabited area and determined that Iran had manufactured the missile and smuggled it to Houthi rebels.
Saudi Arabia has repeatedly accused Iran of arming the Shiite Houthi rebels and their allies.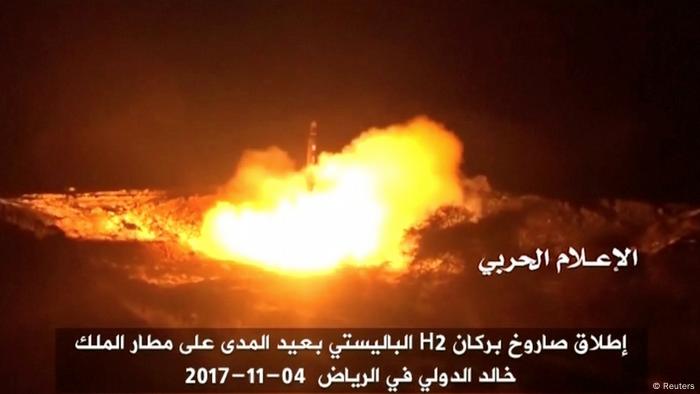 A still image from Yemen's pro-Houthi media shows what it claims is the launch of the missile that targeted Riyadh
Trump backs Saudis
Iran has supported the Shiite rebels, but denies arming them. Houthi rebels say the Volanco-1 ballistic missile variant is produced domestically.
Houthi rebels have fired dozens of missiles toward Saudi Arabia, but Saturday's launch was the first time they had targeted Riyadh, some 620 miles (1,000 kilometers) north of the border with Yemen.
On Sunday, US President Donald Trump joined Saudi Arabia in blaming Iran for the missile launch.
"A shot was just taken by Iran, in my opinion, at Saudi Arabia. And our system knocked it down," Trump said, referring to US-supplied Patriot missile batteries.
Iran's Revolutionary Guard chief, Maj. Gen. Mohammad Ali Jafari, said Iran can't transfer rockets to Yemen and that they were made there. He has called Trump's comments "lies."
In response to Saturday's missile launch, Saudi Arabia said it would temporarily block all Yemeni ground, air, and sea ports while taking into account the work of humanitarian and aid organizations. The coalition has already set up a tight blockade on Yemen.
Regional rivalries heating up
The ultraconservative Sunni kingdom of Saudi Arabia and Shiite Iran are locked in multiple regional rivalries, including proxy wars, as they vie for influence across the Middle East.
A Saudi-led coalition intervened in Yemen in 2015 in a bid to oust Houthi rebels allied with former President Ali Abdullah Saleh, after they overran the capital, Sanaa, and large swaths of the country.
The Saudi-led coalition is trying to restore power to President Abed Rabbo Mansour Hadi and counter what they say is Iranian influence in Saudi Arabia's backyard.
More than two years on, the war against Houthi rebels has turned into a quagmire for the kingdom and its Arab allies. The conflict has killed more than 10,000 people and created one of the world's biggest humanitarian disasters.
In another sign that Tehran and Riyadh's regional power struggle is heating up, the Saudi-backed prime minister of Lebanon, Saad Hariri, resigned on Saturday after he accused Iran and its Lebanese Shiite ally Hezbollah of taking control of the country and destabilizing the region.
The resignation has plunged the country into a political crisis and raised the specter of civil war and a larger regional conflict.
Hezbollah's increasing power across the region has also raised the prospect of conflict with Israel, whose leaders have suggested that it could launch a new war in Lebanon.
Israel is concerned that Tehran is setting up a permanent position on its doorstep in Syria, where Iran and Hezbollah have backed President Bashar al-Assad against rebels in that country's civil war.
Although traditionally foes, Saudi Arabia and Israel have aligned their interests across the Middle East as they seek to counter Iran's expanding influence.
cw/cmk (AP, Reuters)