Saudi Arabia's King Salman and his massive entourage landed in Beijing on Wednesday to help sign deals worth up to $65 billion (61 billion euros) alongside China's President Xi Jinping.
The trip marked a crucial phase of the king's month-long, six-country trip through Asia to strengthen its regional alliances and develop a less oil-dependent growth strategy. The three-day Chinese stop reciprocates Xi's visit to Riyadh last year to shore up China's sphere of influence in the middle east.
China became Saudi Arabia's largest trading partner in 2015. The Kingdom was China's biggest supplier of crude oil for four years but was supplanted by Russia last year, according to official Chinese statistics.
Lower reliance on oil
As well as boosting oil sales, the 81-year-old's Asia trip was aimed at promoting investment opportunities in the kingdom, including the sale of a stake in Saudi Aramco, the massive state-owned company worth trillions of dollars.
Xi told Salman in Beijing's Great Hall of the People that his visit showed the importance he attached to relations with China.
"This visit will push forward and continue to improve the quality of our relations and bear new fruit," Xi said in comments in to reporters.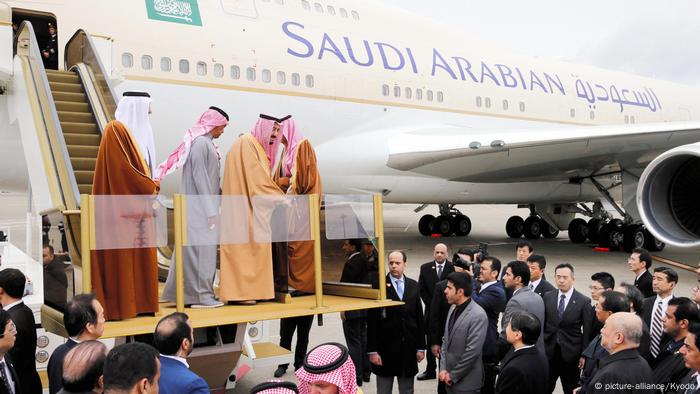 King Salman's entourage reportedly includes about a 1,000 people, a dozen jets and even gold escalators
Energy and space deals
Deputy Chinese Foreign Minister Zhang Ming said the memorandums of understanding and letters of intent that the pair signed involved everything from energy to space.
"President Xi Jinping and King Salman are old friends," Zhang said. "Practical cooperation between China and Saudi Arabia has already made major achievements, and has huge potential."
The visit bolstered the roll out of Xi's signature policy known as "One Belt, One Road" - a trade and investment initiative across Central Asia and the Middle East that would rely on the desert kingdom as a regional linchpin. The policy aimed to increase trade links and market connectivity between China, Europe and regions in between, based loosely on the ancient "Silk Road" trading route.
Xi said he looked forward to discussing projects under development, and said results so far "have surpassed our expectations."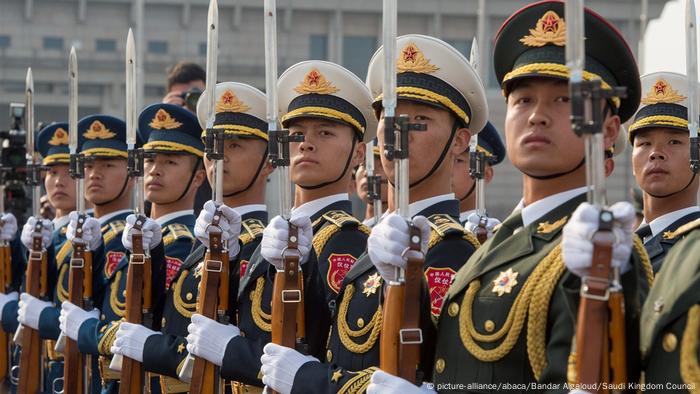 China is playing an increasingly active and sometimes conflicting role in the security of the Middle East
Middle east security
China had long taken a backseat to disputes in the Middle East, but especially with the United States' global diplomatic stance under President Donald Trump unclear, Xi started taking a new approach, with steps that include hosting talks between the opposing parties in the Syrian conflict.
Security ties between Saudi Arabia and China also grew significantly, with the Saudi air force deploying Chinese unmanned attack drones and the two militaries holding joint counter-terrorism exercises in western China.
Chinese navy vessels also visited the Saudi port of Jeddah as part of increasingly active maneuvers in the Gulf of Aden.
It was the king's first visit to China since taking the throne in 2015 upon the death of his half-brother King Abdullah.
aw/rt (Reuters, AFP, AP)