A Salafist group distributed copies of a biography on Muhammad in several cities across western German state of North Rhine-Westphalia, the state's internal security agency confirmed on Monday.
Members of the group, called "We love Muhammad," handed out free copies of the biography to pedestrians in the city centers of Munster, Cologne and Iserlohn.
In Munster, the controversial Islamist preacher Pierre Vogel (pictured above) was also on hand during the book-distributing action, local public broadcaster WDR reported.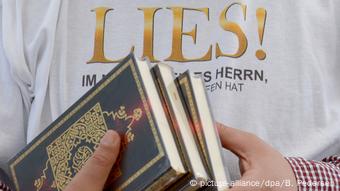 The banned "True Religion" group was known for its "Read it!" Koran campaign
Although Vogel has often spoken out against Islamic terrorism, German security authorities fear that the popular preacher could be a radicalizing influence, particularly on young people.
The reports come almost two weeks after German Interior Minister Thomas de Maiziere announced a ban on the Salafist "True Religion" group, who stirred up controversy for passing out a fundamentalist translation of the Koran in German city centers.
The group became infamous in Germany for disseminating copies of the Koran with the slogan "Read It!" (in German - "Lies!") on the covers. De Maiziere previously said that the particular translation of the Koran was used to "spread messages of hate and anti-constitutional ideologies."
Germany's interior ministry is investigating whether or not the "We love Muhammad" group constitutes a successor organization to "True Religion"- which would mean it could also be banned, a North Rhine-Westphalia interior ministry spokesperson said.
Although the group has been sighted in several regions in Germany, Vogel's "We love Muhammad" organization is not as large as the "True Religion" group.
Last Wednesday, police raided five properties - including a Mosque - in the state of Hessen. Authorities said a number of the mosque's visitors had already traveled to Syria to fight alongside the militant "Islamic State" group.
rs/rc (dpa)