A string of raids were carried out across Germany early on Tuesday morning against suspected "Islamic State" (IS) sympathizers. According to news agency dpa, the raids took place in more than 200 homes and offices across 10 federal states.
Authorities carried out searches targeting individuals belonging to the "True Religion" Salafist group ("Die wahre Religion"), who have stirred up controversy for passing out a particularly fundamentalist translation of the Koran.
The Interior Ministry confirmed the actions in a tweet, and announced a ban of the organization:
Some 65 raids were carried out in the state of Hesse, 15 of them in the city of Frankfurt alone. Every one of the searches took place in Berlin or the former West.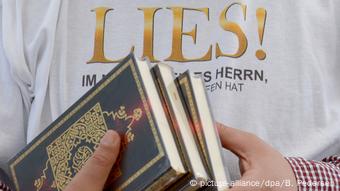 The translated Koran is emblazoned with the German "Lies!", meaning "read" or "read it!" in English
Salafism promotes a very strict interpretation of Islamic scripture and the use of Sharia law to impose order. The "True Religion" Salafists targeted in Tuesday's raid have become infamous in Germany in recent years for disseminating copies of the Koran emblazoned with the slogan "Read It!" before they were banned from doing so in pedestrian zones by Interior Minister Thomas de Maizière.
De Maizière elaborated on the cause of the raids in a press conference later in the day. He said that this particular translation of the Koran was used to "spread messages of hate and anti-constitutional ideologies," adding that "more than 140 young people have traveled to Syria and Iraq to join terrorist groups after participating in the 'Read It!' campaign."
A Twitter account appearing to represent the group claimed that "the Koran has been banned in Germany," going on to say "we have delivered Allah's message."
"Those who indoctrinate young people and radicalize them with pseudoreligious ideologies are using religious freedom as a smoke screen," said Ralf Jäger, the state of North Rhine-Westphalia's top security official, after the raids. The "True Religion" group's Palestinian-born leader Abou-Nagie was not in Germany when Tuesday's raids took place. Police searched his last-known location in the western city of Bonn.
Abou-Nagie is believed to be in Malaysia, security sources told dpa, where the group is reportedly planning on launching a similar Koran-distribution initiative. The "True Religion" group already operates in 15 countries including Austria, France, Bahrain and Brazil, the sources said.
The raids came just one week after German authorities began a renewed crackdown on the country's top Salafist ideologues, including 32-year old hate preacher Abu Walaa. Walaa, an Iraqi who has been in Germany since 2000, is suspected of supporting IS interests in Germany.
rs, es/msh (dpa, epd)