Russian President Vladimir Putin on Tuesday announced a nationwide day of morning as he visited a memorial to the 64 victims of a shopping center fire in the Siberian town of Kemerovo.
Thousands of people separately protested for senior officials to resign in response to their alleged handling of the fire, according to local media.
Tuesday's events:
Putin placed flowers at a spontaneous memorial set up by local residents at the Winter Cherry Mall where the fire took place.
According to local media, he said: "People, children came here to relax. We talk about demographics and yet we lose so many people — and why? Due to criminal negligence and sloppiness."
Thousands of people separately gathered in front of a regional government building in the city center, where they reportedly called for local officials to resign. Some protesters also disputed the official death toll, accusing the government of hiding the true scale of the incident.
The only top regional official who attended the gathering, Deputy Governor Vladimir Chernov, rejected allegations of a cover up and said he would resign if people wanted him to. The crowds shouted "resign, resign!" back at him.
Several protesters visited the local morgue to inspect the dead after Kemerovo's mayor invited them to confirm the death toll. In the morgue's lobby, some of the protesters asked Putin to remove the regional governor. Putin said, "those who need to answer for that, everyone will," and added that the demonstrators should not doubt the transparency of the official investigation.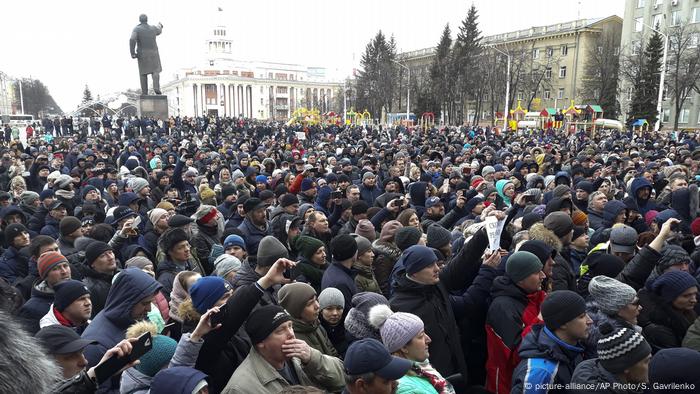 Crowds paid their respects to the victims and criticized local authorities
High death toll: At least 64 people, many of them children, were killed in Sunday's fire. More than 40 children were reportedly unaccounted for on Tuesday, while at least 13 people remained were still being treated in hospital.
Police probe: Investigators have said the mall's fire alarm system had been out of order at the time of the fire. A security guard allegedly turned off the center's public announcement system during the blaze, while illegally blocked emergency exits stopped people from escaping the building.
Four arrests: Police have detained four people, including the head of the management company that operates the shopping center and the lessee of the site where the fire is believed to have started.
Three days of mourning: The Kemerovo region where the town is located will observe three days of mourning starting Tuesday. Critics had questioned why Moscow had not called a nationwide day of morning before Putin's announcement Kemerovo on Tuesday.
amp/kms (dpa, Reuters, AP)