Russia's defense ministry said on Thursday that the "Islamic State" (IS) group has been eradicated in Syria, a day after Russian President Vladimir Putin said the group had suffered a "complete defeat" in the country.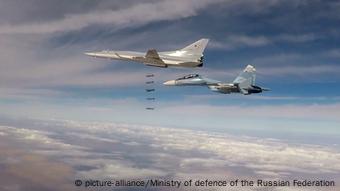 Russia started airstrikes against IS in 2015
"There is not a single village or district in Syria under the control of ISIL. The territory of Syria has been completely liberated from fighters of this terrorist organization," Colonel General Sergei Rudskoi told reporters. ISIL is an alternative abbreviation for the militant group.
"The Russian armed forces' goal to defeat armed groups of the ISIL terrorist organization in Syria has been accomplished," he said, albeit adding that "separate sabotage bands of ISIL" may still be fighting.
The general also said that Russian forces had in recent days been fighting alongside Kurdish forces near the Syria-Iraq border. Russia had not previously acknowledged cooperating with the Kurds in the Syrian conflict.
Read more: Syrian Kurds seize territory from IS with US, Russian support
Disputed claim
Rudskoi's comments followed an earlier statement from Putin, who said: "Operations on the eastern and western banks of the Euphrates have ended with the terrorists' complete defeat."
But the British-based war monitor the Syrian Observatory for Human Rights said on Thursday that IS still held around 8 percent of the eastern province of Deir Ezzor.
The US defense department also said it would resume its airstrikes against the group.
Read more: Russia plans to reduce troops in Syria before end of year
Russia to wind down involvement
Rudskoi said the IS defeat had paved the way for Russia to reduce its military presence in Syria: "With the liquidation of armed bands of the ISIL terrorist group in Syria, the Russian contingent will concentrate its main efforts on providing aid to the Syrian people in rebuilding peace."
Putin had said in November that Russia would start focusing on political reform as part of a "new stage" in the conflict.
Russia began launching airstrikes against various Syrian opposition groups in September 2015 as support for Syria's military. The intervention has helped forces loyal to Syrian President Bashar al-Assad, a close ally of Moscow, regain control over much of the country.
The Syrian conflict began in 2011 and over 340,000 people have been killed.
Read more: Syria: Russia sees end in sight at peace talks
amp/msh (AFP, dpa, AP)