The United Nations Security Council began discussions on a new draft resolution on Monday in a desperate bid to end fighting in the Syrian city of Aleppo.
The proposal, drafted by France, calls for a UN-led task force to monitor a truce and threatened "further measures" should any party to the conflict violate it.
"We consider that this is our responsibility to do absolutely everything we can do, everything humanly possible to unite the Security Council behind our efforts to end the martyrdom in Aleppo," said France's ambassador to the UN, Francois Delattre, before the Security Council meeting.
A US-Russia brokered ceasefire between government forces and moderate rebels that had given nearly a week reprieve to spiralling violence, but since it broke down Syrian allied forces have pushed a major offensive on the encircled rebel-held eastern part of Aleppo.
The aftermath of the ceasefire breakdown has seen Russia and the West trading accusations, as a humanitarian crisis in Aleppo deepens.
The US-Russia spat, which included accusations against Moscow of war crimes for its bombing raids, culminated with the US suspending its Syria cooperation with Moscow on Monday. Russia has insisted it had to resume its bombing campaign to prevent terrorists from taking over Aleppo.
The French resolution calls on Russia and the United States "to ensure the immediate implementation of the cessation of hostilities, starting with Aleppo, and, to that effect, to put an end to all military flights over the city."
Moscow: Airstrikes needed to counter IS
Veto wielding Security Council member Russia immediately shot down France's proposal before it even got off the ground, saying they did not believe it offered any viable solutions.
"The main practical thing, a new kind of innovation in that draft resolution is the idea of creating some kind of a new monitoring mechanism for the cease-fire - but there is one in Geneva and it is a mechanism which has been there for a long time and frankly has not been used very effectively," said Russian UN Ambassador Vitaly Churkin.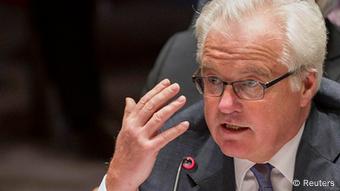 Churkin told the UN airstrikes were necessary in Syria
Churkin said his government took particular issue with one facet of the proposal, "singling out aviation, where terrorists (on the ground) would be allowed to do whatever they want, would not be a very attractive proposition."
"I am not even sure many other Security Council members would like to see a resolution on cessation of hostilities that has no chance of working," Churkin added.
Russia accuses the United States of violating the ceasefire agreement by failing to separate rebels it backs from terrorist groups like the Levant Conquest Front, formerly known as the Nusra Front, al-Qaeda's affiliate in Syria. Western and Gulf backed rebels are intermingled and operate in the same area as the Levant Conquest Front.
On top of blocking supply routes, the non-stop bombardment of rebel-held eastern Aleppo has also damaged local water supplies and hospitals. More than 300,000 people have died since the beginning of the Syrian conflict in 2011.
es/cw/cmk (AFP, Reuters)