Russia's foreign ministry called the latest sanctions "destructive and short-sighted" in a statement on Wednesday, while the Kremlin issued its own ban on most fruit and vegetable imports from Poland.
Russia said that the measure was for sanitary reasons, not political ones, and that it could be extended to cover the entire European Union. The government in Warsaw called the ban retaliation for the US and EU sanctions.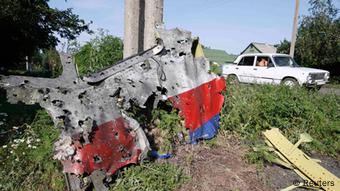 Pressure on Moscow has increased since the MH17 crash
The western sanctions restrict future arms deals with Moscow and trade in equipment for the oil industry, while also barring Russian state banks from raising money in Western capital markets.
"This is a thoughtless, irresponsible step. It will inevitably lead to an increase in prices on the European energy market," the foreign ministry in Moscow said.
Natural gas, arguably Russia's most important export to Europe, was a noteworthy industry not included in the sanctions.
The Russian foreign ministry also said that the measures would damage cooperation with the US on the international stage, and accused Washington of trying "to get even with us for our independent policy which is inconvenient for the United States."
The sanctions pertain to Russia's perceived support of separatists in eastern Ukraine and, most recently, to the Malaysia Airlines Flight MH17 crash in rebel-held territory. The US and EU have accused Russia of providing the separatists with rockets that brought down the Boeing 777; the Kremlin disputes this.
G7 warning, possible peace talk in Belarus
As the Kremlin criticized the latest sanctions, G7 leaders issued a joint statement on Wednesday warning of further measures unless Moscow changes tack.
"Russia still has the opportunity to choose the path of de-escalation," the G7 statement said. "If it does not do so, however, we remain ready to further intensify the costs of its adverse actions." The European Union said on Wednesday that its 28 member states would seek formal approval for the latest sanctions on Thursday, so that they could come into effect on Friday, August 1.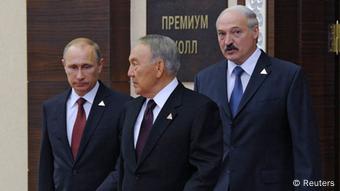 Lukashenko (r.) and Belarus in May joined a Russian free-trade zone; Ukraine was once supposed to join
In eastern Ukraine, fighting continued around the MH17 crash site on Thursday, forcing unarmed international investigators to abandon their planned visit for the fourth day running. Ukraine's military accused separatists of fortifying the area and laying land mines to prevent an investigation, allegations that could not be independently investigated. Attempts to secure a truce around the broad debris field have so far failed, but unlikely fresh talks on the issue could begin on Thursday in Minsk, the capital of Belarus.
The office of President Alexander Lukashenko said on Wednesday that Ukraine's President Petro Poroshenko had asked for Belarus to host fresh peace talks. Lukashenko's office said "all interested sides" were invited.
The government in Minsk said access to the MH17 crash site would be a key priority in the talks, regional expert Andrew Weiss told DW that even marginal progress would currently be welcome.
"At this point, nobody's talking about a serious political settlement. I think at this point we're very much talking about baby steps, in terms of access in and around the crash site, but as everyone knows, that's proving very difficult," Weiss, who oversees research on Russia and Eurasia for the Carnegie Endowment in Moscow and Washington, told DW.
Lukashenko, once dubbed "Europe's last dictator" by the George W. Bush administration in Washington, is considered a close ally of Russia and President Vladimir Putin. Belarus in May joined a free-trade zone with Russia also including Kazakhstan - and which at one point was set to include Ukraine under previous President Viktor Yanukovych. However, Weiss warned against overemphasizing this alliance, saying Lukashenko "is not in Moscow's pocket."
msh/jm (AFP, dpa, Reuters)