Over the past couple of weeks there have been two notable attacks on works of art by religious fanatics who feel they are offensive to their religious beliefs.
One has been likened to the acts of the "Islamic State" group as it involved the destruction of a bas relief in St. Petersburg of Mephistopheles - a demon like figure that had been in situ for more than 100 years in the city known for its architectural grandeur and works of art.
The offending winged devil made famous by Faust was apparently facing the site of a new church - a fact that could not be tolerated by the offendee, who claimed to be a member of a Cossack-based group in St. Petersburg, although official Cossack groups have denied any connection to the attack.
The other act of vandalism was in Moscow. Members of the group "God's Will" took it upon themselves to destroy works by the Soviet artist Vadim Sidur. Ironically, the Soviets also found the disabled World War II veteran's works offensive - even though they were supposed to be atheists - as they were censored by them, hence the title of the exhibition "Sculptures we cannot see." Like beauty, offense must be in the eye of the beholder.
Destruction of art deemed offensive - probably a throwback to the rise of Bolshevism and the destruction of churches and their icons - is not new in Russia. But it appears believers are becoming increasingly easy to upset and self-righteous in their actions and seem to think that they have a right to destroy what offends them.
In this instance they destroyed a handful of linoleum cuts the value of which is irrelevant because it's the principle that matters.
The group, lead by Dmitry Tsorionov, known also as Enteo, were detained and released shortly afterwards and an inquiry has been launched into the incident, police say.
Hypocrisy
Now, think back to Pussy Riot in the church. They sang a punk-style political song and made a lot of noise while looking as threatening as girls in balaclavas can, but they didn't damage a single thing. They were detained and spent two years in jail.
Enteo and his band of religious thugs entered a public exhibition and damaged works of art and pretty much went home for dinner with their families. Apart from the blatant hypocrisy, the message this sends to them and other would-be criminals who think they've got a divine right to attack when they feel offended is not a good one.
"Our action is a cry, because no one hears us; the state doesn't protect what is holy to us today, and only some high-profile act can change something," Tsorionov said in his defense.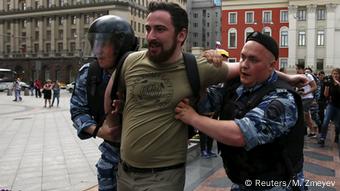 Dmitry Enteo has also campaigned against gay rights activists in Russia
I think that's pretty much what Pussy Riot said, except they were talking about a free and civil society.
The God's Will website says the group wants Russia to be an Orthodox Empire, and free of "homosexuals, abortions, drug addiction or alcoholism."
In that case I'm guessing they'll be supporters of a booklet that's being handed out to women at maternity hospitals that urges them to be subservient to their husbands because it is man's "God given right" to lead and he won't tolerate a woman who challenges him.
The New Medieval epoch
According to the newspaper, Kommersant, which labeled it as "insulting" and a "testament to the New Medieval epoch," the advice is included in a supplement to a standard medical booklet given to pregnant women called "Useful advice on strengthening family relations." Among its many useful tidbits it states that a "man cannot like a woman's leadership - that is unnatural."
And it advises that "the ability of a woman to take second place is the highest value she presents to a man," and should she go against this, she risks "awakening the beast" within him.
It also warns that "A man absolutely cannot stand [it] when his wife teaches him. The husband is the head of the family, and, consequently, he is also the teacher." And it goes on to describe women as hostages of their "emotional nature," whereas "men respond to the world rationally."
If you go by the Greek interpretation, Mephistopheles name can mean 'not-light-loving' but it is publications like this and the destruction of art and historical objects that risk driving Russia back toward the dark ages. And you can call it an emotional response if you like, but I'm offended.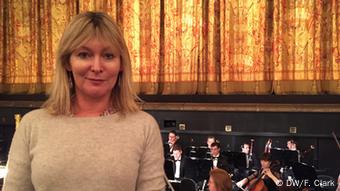 Fiona Clark writes a regular column for DW from Moscow
Fiona Clark is an Australian journalist currently living in Russia. She started her career with the Australian Broadcasting Corporation as a TV reporter in the mid-1980s. She has spent the past 10 years working on publications such as The Lancet and Australian Doctor and consumer health websites. This is her second stint in Moscow, having worked there from 1990-92. What was to be a two-year posting is still continuing.