A month ago, Russian Economics Minister Alexey Ulyukaev was in a bullish mood, dismissing the possibility that his country could be brought to its knees by Western sanctions. He admitted there would be a risk of recession and a drop in tax revenue, but insisted that Russia had nothing to fear.
Now, however, he is eating his words. The EU's punitive measures have grounded Russian carrier Dobrolet, a low-cost subsidiary of state-owned Aeroflot: a number of its European partners annulled their aircraft insurance, repair and maintenance agreements.
As the Moscow daily Kommersant reported, the Kremlin's insistence that Russia would be able to shrug off the EU sanctions has proved to be mere political posturing. "The EU has succeeded for the first time in demonstrating that its sanctions can be effective," it wrote.
Retaliation
Moscow might now retaliate with a ban on European airlines flying across Russian airspace, according to the Moscow newspaper Vedomosti. This would put European carriers at a serious disadvantage with their Asian rivals, potentially costing them up to a billion euros, reported the paper.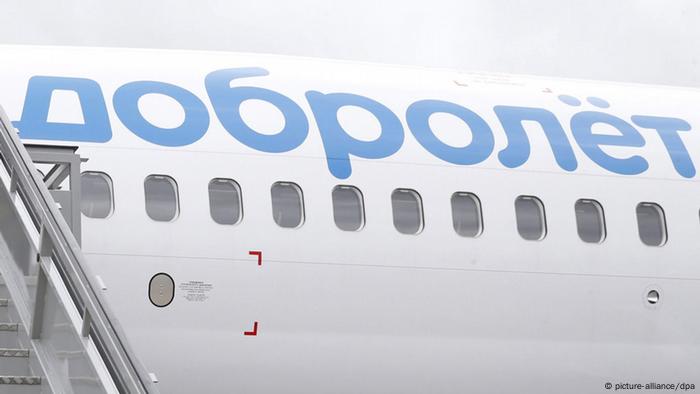 Dobrolet is Russia's first victim of Western sanctions
But the Russian aviation industry would also suffer. After Dobrolet was grounded, shares in its parent company Aeroflot fell 7.8 percent earlier this week. A ban on Western European carriers flying over Siberia would also take its toll on Aeroflot, since levies on overflight rights are a significant source of income.
Leverage
But the Kremlin has another weapon up its sleeve. With the EU relying on Russia for approximately one-third of its oil and gas imports, it could resort to using raw materials as leverage.
According to Claudia Kemfert from the German Institute of Economic Research, the strategy could prove tricky. "The question is whether Russia can demand higher prices," she says. Existing contracts, after all, are valid for many years to come and contain binding agreements on natural gas prices.
Moreover, the strategy could backfire. Even if the Kremlin could undermine the EU economy, it might score an own goal in the process. Russia itself relies on exporting its natural resources and were its business with the West to collapse, its own economy would be badly hit too.
Sanitary Inspections
But Russia has already demonstrated that it is willing and able to demand an eye for an eye: It has already banned fruit and vegetables from Poland in apparent retaliation to the latest Western sanctions. For the time being, Poland can take the heat and no one in Russia is going hungry. But the move shows that the Kremlin isn't prepared to turn the other cheek.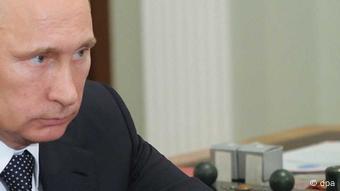 Putin has to consider his next steps
Significantly, it is also no standard boycott. Moscow set about the ban by having Russia's hygiene authorities examine imports from Poland. These then announced that the imports had unacceptable levels of pesticide residues and nitrates.
It is not the first time that Moscow has used sanitary inspections to restrict trade from countries with which it has political disputes, including the Baltic states and Georgia.
But Germany appears undaunted by the specter of bans on food exports, services and gas supplies. Tobias Baumann from the German Chambers of Commerce and Industry (DIHK) told DW that the German economy is unlikely to falter even if all of its exports to Russia were to be suspended, "which won't happen anyway."
The Kremlin, however, is unlikely to make do with needling Poland. In response to Washington's demand that the EU impose even harsher sanctions against Russia, health and safety regulators have apparently found traces of toxic chemicals in US bourbon. It looks as though Russians won't be drinking much whisky for a while.