Russian troops have been gathering in Belarus since Monday. The Zapad 2017 (West 2017) war games are slated to begin in September, with roughly 12,700 Russian soldiers officially participating, according to Moscow. NATO Secretary-General Jens Stoltenberg thanked Russian officials for providing them with troop information, but said the games will nonetheless be closely monitored.
Read more: What are Russia's Zapad war games?
War games exceeding 13,000 troops require the presence of external observers, as stipulated by the Vienna Document, a security agreement among the participating states of the Organization for Security and Co-operation in Europe (OSCE), which includes Russia. Western observers fear Russia will break the agreed limit on troop participation. Opposition voices in Belarus, a Russian ally, worry that Russian troops will remain in the country following the exercises to de facto occupy the country.
Regional concern grows
Russia's military build up to its West is worrying Belarus' neighbors - Ukraine, Poland and the Baltic states - which were all under Moscow's control during the Soviet era. Lithuanian Defense Minister Raimundas Karoblis said there are 100,000 Russian troops that President Vladimir Putin wants to use to "put NATO to the test."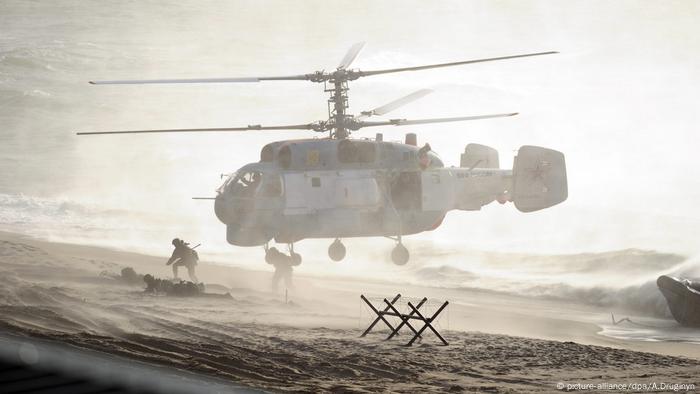 The Zapad military exercises were previously held in 2013 and 2009
That number may refer to Russia's total troop presence in the larger region for the exercises, Margarete Klein of the German Institute for International and Security Affairs (SWP) told DW. The military exercises are taking place both in Russia and Belarus, she said, however a lot of speculation surrounds the operation.
"We just have to wait to see what happens," Klein said. "It's difficult to talk in advance about what the numbers may mean."
Doubting the numbers
Russian military expert Alexander Golz pointed out that the Zapad war games extend beyond Belarus, as the Belarusian military announced they are to stretch from Russia's Kola Peninsula near Finland to the western exclave of Kaliningrad in the Baltic region. Thus troops are being amassed not just in Belarus, but in Russia as well, he said, adding that Moscow has a history of playing fast and loose with troop numbers.
"Russia had a curious interpretation of the Vienna Document during the conflict in the Donbass," Golz told DW, explaining that Moscow's troop deployment to the country's border with eastern Ukraine was said to be part of a military exercise so that the Kremlin could claim its soldiers' presence did not exceed the Vienna Document's limit.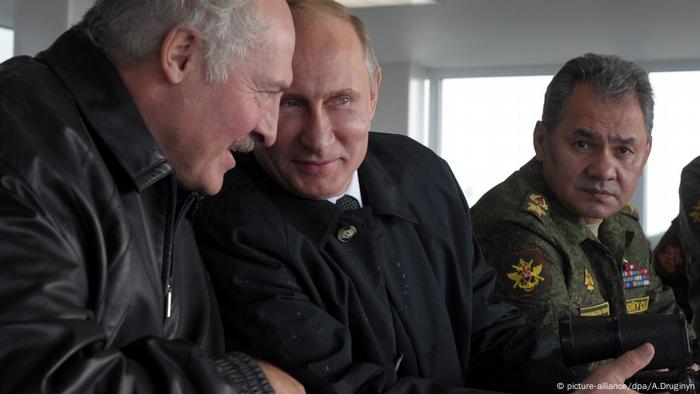 Lukashenko, Putin and Russian Defense Minister Sergei Shoigu coordinated for Zapad 2013
Everything above board?
Russia's Defense Ministry has ordered about 4,000 rail cars, according to media reports, for troop transports to Belarus - more than previous exercises, including 1,000 more than for Zapad 2013, Alexander Alessin, a Belarusian military expert, told DW. Zapad 2017 would remain within the permissible limits, he said, calculating for up to 30 tons of equipment per soldier.
Prospects for Belarusian sovereignty
A post-operation occupation of Belarus is unlikely, Alessin said, because "occupying [Russia's] only ally would undermine faith in the Kremlin, including with its potential partners." It would also undermine Belarusian President Alexander Lukashenko's credibility - at home and abroad, which is in neither side's interest. Alessin cited Belarus' denial of Russia's 2013 request to maintain airbases there.
Lukashenko is unlikely to allow Russian troops to remain in the country following the September maneuvers, Alexander Golz said. For 20 years, Lukashenko has been receiving money from Russia, he said, and therefore has always underscored Belarus' strategic importance to Russia as an outpost. "As far as Russian military bases in Belarus go," Golz added, "Lukashenko turned 180 degrees. Interestingly, Putin had to swallow that."