US and NATO alliance officials said they are concerned about reports that troops on NATO's frontlines in the Baltic states and Poland have been personally confronted by strangers who possess personal details about them.
The Wall Street Journal (WSJ) reported Russia is using advanced surveillance techniques, including drones and covert antennas, to pull data from smartphones being used by soldiers deployed as part of the alliance's "enhanced Forward Presence" (eFP) in Estonia, Latvia, Lithuania and Poland. The WSJ story includes personal accounts of military personnel being approached in public by a person they believed was a Russian agent conveying personal details about them for purposes of intimidation.
Speaking at NATO headquarters, US Ambassador to NATO Kay Bailey Hutchison said the matter is being looked into. "We will definitely be bringing it up," Hutchison pledged. One of the army officers who told the WSJ his phone had been hacked was an American lieutenant colonel who feared the Russians were tracking him with it.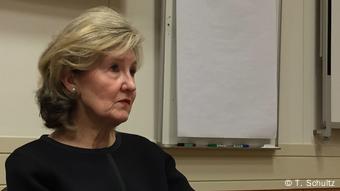 US Ambassador to NATO Kay Bailey Hutchison says she'll be raising the issue of Russian hacking of allied troops.
"We have seen attempts to undermine troops deployed in this part of our alliance, but our personnel are well-prepared to perform the mission at hand, despite these hybrid challenges," a NATO military official explained. "The safety and security of our personnel is always a top priority for NATO, as well as for all contributing and host nations."
The official, who was not authorized to give his name, emphasized that "all necessary measures" are being taken to "protect the mission" and networks, and that personnel are being trained to be vigilant "as part of their daily routines, including online."
Read more: Russian hackers stole US secrets from NSA
Not new to NATO
The face-to-face harassment is neither unprecedented nor unforeseen. Many countries contributing forces to the NATO reassurance measures near the Russian border warn their troops about the dangers of oversharing on social media, for example, which makes it all too easy for adversaries to do "research."
Lithuania, which last year successfully fended off a disinformation campaign believed to have come from Russia, is among those allies most aggressively training troops on internet usage.
"The Lithuanian Armed Forces are generally aware of possible risks and threats evolving from the usage of mobile devices, internet and social networks and this is taken very seriously," a Defense Ministry spokesperson told DW. "Every Lithuanian soldier is instructed on a regular basis about national limitations and information security requirements" to ensure responsible usage.
Bruno Lete, a security and defense analyst at the German Marshall Fund in Brussels, said he isn't particularly alarmed by the reports.
"From a military/battlefield perspective [hacking] is easy to neutralize," he suggested, "by simply ordering troops not to bring their smartphones to training, operations or other missions. However, it may pose a psychological burden on troops' morale, knowing that 'Moscow is watching them.'"
Read more: Eastern Europe's defense industry - from boom to bang?
Lete said the incidents do, however, demonstrate how actively Russia is integrating "digital and cyber warfare into its conventional security and defense planning." That, Lete told DW, is where NATO needs to pick up the pace. Despite cyber deterrence being elevated as a priority – cyber is now an official warfighting domain – "NATO, for now, remains on the reactive side," Lete said.
Engineering enmity
Former Dutch intelligence officer Joe Shenouda, now the Principal Cyber Analyst for Verizon, sees the situation as a bit more sinister.
"What seems to be obvious is that Russia is acting on the [hacked] intel by sending people to try to 'social engineer' their way towards more leaks or intel than they normally would get if they would sit behind their keyboards in Moscow," Shenouda told DW. "The biggest danger I see is social engineering, NATO people have a private life as well, and [Russians] are going to exploit anything to get where they want to be."
Shenouda warned that even after being warned and trained, many users in sensitive environments are incredibly careless, freely sharing geolocation data as well as downloading apps.
"[Adversaries] can see movements, training," he pointed out. "They can tamper with the GPS, insert false SMS messages." With easily available information to "follow" thousands of NATO personnel on social media, it's not hard to follow them in real life.
"This has all been done in Ukraine since 2014," said former Estonian President Toomas Ilves, whose country suffered what is widely considered the first act of "cyber warfare" in 2007 when hackers believed to be Russian paralyzed Tallinn's infrastructure temporarily. "Now it's NATO's turn."