"Protect families and the children of Romania! If you don't show up to vote, two men will be able to adopt your child!"
That's what residents in the western city of Timisoara could see written on a giant banner fixed to the side of a downtown residential building. The poster disappeared after a few days — the mayor himself asked for it to be taken down. But it shows how heated the atmosphere has become in Romania. In many families, friends circles and offices, people have been passionately arguing for weeks over same-sex marriage and adoption by gay couples.
In a referendum on October 6 and 7, Romanians will be able to vote on whether the constitution should define marriage as the union between "man and woman." So far, it uses the gender-neutral term "spouses."
Pushing for constitutional amendment
Since 2015, conservative and religious groups have been working together as part of the Coalition for the Family, collecting 3 million signatures for a petition urging politicians to amend the constitution. The Parliament and Senate supported the constitutional amendment by a clear majority, including opposition votes, with only the newcomer party Union for the Rescue of Romania voting against it.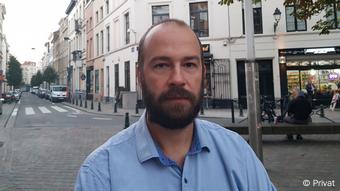 Grigoriu supports the Coalition for the Family
Romania's civil code clearly refers to marriage as a union between "man and woman." But that's not enough, says Bucharest musician and translator Paul Grigoriu, who supports the Coalition for the Family.
"In Romania today, it's unfortunately very easy to change laws," he told DW.
The Social Democratic Party (PSD), which governs together in a coalition with its liberal junior partner ALDE, has among other things enacted controversial judicial reforms, which in turn sparked mass protests dating back to the beginning of 2017.
"If something is in the constitution, it can't be changed as easily," explained Grigoriu, who is featured in a Coalition for the Family video advertisement supporting the referendum.
Read more: Nazi insults targeting Romanian president enrage German officials
He has nothing against gay people, he stressed several times while speaking to DW. "Everyone does what he wants in his private life, and all the more in his bedroom," he said. "But what the state recognizes as marriage is something else."
Grigoriu claimed that legalizing gay marriage would "threaten society as a whole," and is also opposed to allowing same-sex families to adopt children.
'Wave of hatred' against gays and lesbians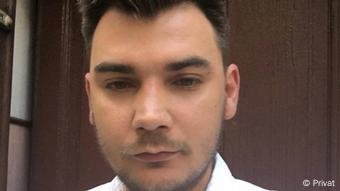 Viski says there has been a 'wave of hatred' toward the LGBT community in Romania ahead of the vote
LGBT activist Vlad Viski, director of the organization MozaiQ in Bucharest, has criticized the oft-repeated talking point ahead of the vote that claims gay people want to "take away" other people's children. MozaiQ has called for a boycott of the referendum under the motto "Love is not the subject of a vote: stay home on October 6 and 7." If at least 30 percent of eligible voters do not participate, the referendum will be declared invalid.
"Recently, several people have come to us and reported that they were insulted or even physically attacked in the street," Viski told DW, pointing out that there has been a "wave of hatred" against gays and lesbians in public spaces in the run-up to the vote.
Read more: Romania's bear hysteria pits hunters against conservationists
However, he also noted a surprisingly amount of encouragement. "Many heterosexuals, who so far had no opinion at all on this topic, support us now and are now saying they will boycott the referendum," Viski said.
The Orthodox Church of Romania has also endorsed defining marriage as a union between a man and a woman. However, the LGBT community in Romania today isn't even interested in same-sex marriage, said Viski. Rather, the goal is a law that allows registered civil partnerships for same-sex couples.
A distraction from political problems?
Many critics of Romania's ruling PSD and its previously-convicted party leader Liviu Dragnea see the referendum as a diversionary tactic. They say the government wants to focus people's attention on something other than the fallout from its judicial reforms and the violent police crackdown on protesters during a demonstration this past August.
The Romanian government drew international condemnation for its violent crackdown on protesters in August
Read more: Why are police clashing with expats in Romania?
But from the perspective of Romanian political scientist and historian Armand Gosu, a fellow at the German Council on Foreign Relations, there is much more at stake. "It is an anti-Western manifesto by Romania," he told DW. "The elite that has ruled Romania since the end of the dictatorship in 1989 and has its roots in the old nomenklatura (Editor's note: the Soviet-era ruling class) feels humiliated by Brussels."
This elite includes politicians in legal jeopardy who have a vested interest in pushing through corruption-related amnesty laws, explained Gosu, but the European Union is still standing in their way — much more so than Romania's weaker domestic opposition.
"Brussels won't stop reminding them that the Romanian government is moving away from the rule of law and an independent judiciary," said Gosu.
The European Parliament in Strasbourg this week began debating the current political crisis in Romania, and whether the country's government is undermining fundamental EU values.
By adopting this referendum, Romania risks moving away from Brussels' sphere of influence and a "return to the East," Gosu warned — closer to Byzantine Orthodox civilization, and closer to Vladimir Putin's Russia.
Every evening at 1830 UTC, DW editors send out a selection of the day's hard news and quality feature journalism. You can sign up to receive it directly here.