The European Roma Institute for Art and Culture (ERIAC) was launched on Thursday at Germany's Foreign Ministry. It plans to opens its doors in Berlin this fall. Supporters include the Council of Europe and Hungarian-American billionaire George Soros through his Open Society Foundation.
One of the aims of the center is "focusing on what Roma culture can contribute to open the eyes of people across Europe," Council of Europe chief Thorbjorn Jaglandy told AP news agency. A further goal is "empowering the Roma people itself to make (it) proud of its own history and culture."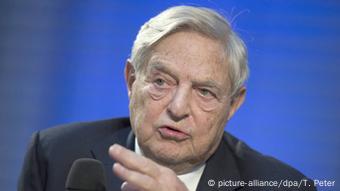 Billionaire George Soros advocates an "open society"
Europe's Roma minority is estimated to constitute some 12 million people, making it the continent's largest minority group. It has, however, suffered centuries of discrimination.
Berlin appears to be a suitable spot for the center. "The location of Berlin for the seat of the European Roma Institute for Arts and Culture sends a clear message," said Romani Rose, head of the Central Council of German Sinti and Roma, as reported by the Romea Website. "In the center of Europe, in the most culturally vibrant European capital, there is a place to celebrate the resilience and creative power of Roma communities and to challenge the pervasive prejudice and stereotypes against Roma."
Beacon for liberal issues
Billionaire investor George Soros, an 86-year-old Holocaust survivor, has grabbed global attention as a promoter of liberal causes. He has also reaped the wrath of the right-wing Hungarian government and authoritarian politicians in other European countries.
"I am ideologically opposed to the people who are waging that war and I stick to my principles, stand up for it, and I think we shall prevail," he said at the launch of the center on Thursday.
als/eg (AP, KNA)