In a case which drew demonstrations outside the courthouse, a Bangkok Criminal Court judge found the pair guilty of defaming the monarchy in a university play. "The court considers their role in the play caused serious damage to the monarchy and sees no reason to suspend their sentences," he was quoted by AFP as saying.
The judge then added that the pair was originally handed five-year jail terms, but the sentence was halved due to their confessions.
Patiwat Saraiyaem, a 23-year-old university student, and Pornthip Munkong, a 26-year-old recent graduate, were arrested on August 14 and 15 respectively for their participation in "The Wolf Bride," a satire set in a fictional kingdom presented in October 2013 as part of the 40th commemoration at Thammasat University of the October 1973 pro-democracy protest. The court had denied both Patiwat's and Pornthip's bail requests.
A tool to stifle dissent?
Thailand's strict lèse majesté law makes it a crime to defame, insult or threaten the king and members of the royal family. But the legislation - found under article 112 of Thailand's penal code - has also been criticized as a potential tool to suppress political dissident.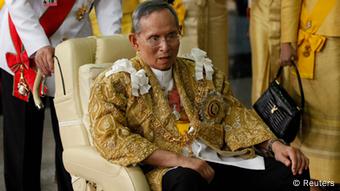 Thailand's strict lèse majesté law makes it a crime to defame, insult or threaten the king and members of the royal family
Rights groups argue that since the country's military imposed Martial Law on May 20 last year and seized power from an elected administration two days later in a coup, the ruling junta has been pursuing lèse majesté charges on an unprecedented scale to target critics.
They also accuse the junta - formally known as the National Council for Peace and Order (NCPO) - of engaging in systemic arbitrary arrests and detentions of hundreds of people, restricting freedom of expression and assembly, and cracking down on independent media.
The man behind the coup, General Prayuth Chan-ocha, has argued that the military takeover on May 22 was necessary to avoid further bloodshed following months of political turmoil pitting anti-government demonstrators against supporters of ousted Prime Minister Yingluck Shinawatra. The protests left 28 people dead and hundreds wounded.
Claiming to want to free Thailand from a vicious circle of political instability, General Prayuth - appointed premier in August by a military-dominated legislative assembly - has suppressed dissent by, among other things, detaining hundreds of people without charge and deploying troops to quell any resistance in the weeks following the takeover.
The 60-year-old then ruled out holding new elections before October 2015, despite international appeals for a return to democracy.
'To hunt down and prosecute'
Andrea Giorgetta, the Southeast Asia Desk Director of the Paris-based International Federation for Human Rights, said the NCPO has made it one of its top priorities to "hunt down and prosecute " lèse-majesté suspects. Since the coup, at least 40 people have been arrested under Article 112. Nine of them have already been sentenced to prison terms ranging from three to 15 years, he said.
A similar view is shared by Brad Adams, Asia director at Human Rights Watch. "Thailand's military junta first put a chokehold on TV, radio, newspapers and the internet, and now they're going after the theater arts," said Adams. "Since the military coup, the authorities have clamped down on any speech they find objectionable, including what they deem is critical of the monarchy," he added.
Adams also pointed out that neither King Bhumibol Adulyadej nor any member of the royal family has ever personally filed lèse majesté charges. He referred to a speech given by the King in 2005 where the monarch reportedly stated he was not above criticism.
AI: 'Verdict should be overturned'
In this context, Rupert Abbott, AI's Research Director for Southeast Asia and the Pacific said the conviction of the two university students amounts to "an assault on freedom of expression."
HRW's Adams: "Since the military coup, the authorities have clamped down on any speech they find objectionable"
"It is appalling that Patiwat Saraiyaem and Pornthip Munkong are now facing jail time just for staging a play. The pair should never have had to stand trial in the first place and the verdict should be overturned and sentences expunged, regardless of their guilty plea, which should not be considered as an admission of criminal responsibility," said Abbott.
The human rights activist said all those who have been jailed solely for peacefully expressing their opinions, should be released "immediately and unconditionally." Abbott also called for the lèse majesté law to be amended "so that it complies with Thailand's international legal obligations, including under the International Covenant on Civil and Political Rights."