For the reshoot of scenes that previously included Kevin Spacey in Ridley Scott's "All the Money in the World," Michelle Williams was allegedly paid $80 per diem, totaling less than $1,000 (€837) for her work, while her male colleague Mark Wahlberg obtained a $1.5-million bonus, according to a report by American newspaper USA Today, which quotes "people familiar with the situation but not authorized to speak publicly."
Director Ridley Scott had previously revealed that the reshoot had cost $10 million (€8.37 million) and that he and all actors had agreed to film the scenes a second time without being paid.
Read more: Kevin Spacey cut from a new Ridley Scott movie a month before release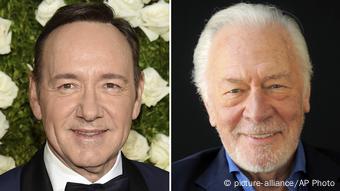 Kevin Spacey (left) was replaced by Christopher Plummer in "All The Money in the World"
Williams and Wahlberg represented by same agency
Michelle Williams is part of the Time's Up initiative launched by Hollywood women to combat widespread sexual harassment across the US.
She had said in a previous USA Today interview that she gladly agreed to volunteer for the reshoot because she "appreciated so much that they [Scott's production team] were making this massive effort" to react to allegations of sexual misconduct against Kevin Spacey.
Read more:Norway ex-royal says Kevin Spacey groped him
She was, however, apparently not informed that her male co-star's manager and agency WME had renegotiated a heavy reshoot fee. Wahlberg and his agents "have a reputation in Hollywood for driving a tough bargain," noted The Washington Post after previously reporting on his bonus.
Williams and Wahlberg are represented by the same agency, William Morris Endeavor. Williams has a lead role in the movie, while Wahlberg is a supporting actor.
'This is how the business works'
Melissa Silverstein, founder and publisher of the Women and Hollywood website, denounced the situation before it was picked up by USA Today.
Although Wahlberg and Williams haven't reacted to the reports yet, other Hollywood personalities including actress Jessica Chastain and producer Judd Apatow have posted their reactions on Twitter.
Popular cultural critic Ira Madison III wrote in one Tweet, "Honestly the real story is that Wahlberg didn't mind making money off the Spacey scandal," adding in a second one that donating that money would be to his advantage: