The Netflix drama, which stars Spacey and Robin Wright (above) as ambitious Washington political couple Frank and Claire Underwood, will end in 2018 with 13 episodes. Filming for the final season has been suspended in Maryland.
Netflix and House of Cards production company Media Rights Capital issued a joint statement on Tuesday saying they "have decided to suspend production on House of Cards season six, until further notice, to give us time to review the current situation and to address any concerns of our cast and crew."
Both companies had said on Monday they were "deeply troubled" by the allegations against Spacey.
The decision to end the series as a whole was made several months ago, a person with knowledge of the situation told The Associated Press on condition of anonymity. According to The Hollywood Reporter, the end of the series had been in the works during the summer. Deadline also reported that Netflix and production company Media Rights Capital had been leaning toward ending the show.
'House of Cards' a gamechanger
The 58-year-old double Oscar winner is also an executive producer on the show, which is adapted from a BBC drama of the same name and which has earned 46 Emmy nominations and Golden Globes for its lead couple.
"House of Cards was a game-changer for Netflix, widely considered the first streaming show to take the fight up to Hollywood," David Knox, editor of the website TV Tonight, said.
"Searingly written and performed, with all episodes dropped on day of launch, it's the show that has spearheaded Netflix and for most consumers, the first of their titles they ever watched."
Netflix doesn't release its viewing figures.
The allegations
In an interview published by BuzzFeed News on Sunday, actor Anthony Rapp alleged that he was attending a party at Spacey's apartment in 1986 when an inebriated 26-year-old Spacey picked him up, placed him on his bed, and climbed on top of him. Rapp, then 14, was able to get away without any physical harm.
Rapp said he had been encouraged to make the accusations after dozens of women came out with allegations of sexual abuse by the film producer Harvey Weinstein after the New York Times published a story earlier in October alleging that Weinstein had sexually harassed several women.
"I came forward with my story, standing on the shoulders of the many courageous women and men who have been speaking out to shine a light and hopefully make a difference, as they have done for me," he wrote on Twitter. Rapp, who starred on Broadway in "Rent," currently stars in "Star Trek: Discovery."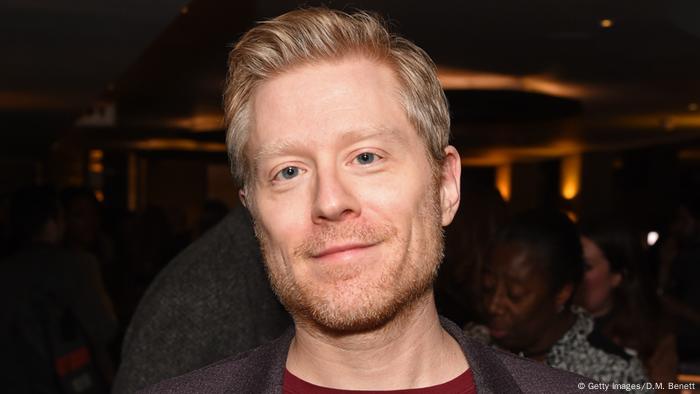 Rapp says he was as a party at Spacey's flat in 1986 when the actor picked him up, put him on his bed and climbed on top of him
So sorry!
Spacey responded on Twitter by saying he doesn't remember the alleged encounter but that, if he had acted in the way Rapp alleged, "I owe him the sincerest apology for what would have been deeply inappropriate drunken behavior."
Spacey then said Rapp's story had encouraged him to address long-standing rumors about his sexuality. He wrote he had had romantic relationships with both men and women but was now living "as a gay man" and wanted to be honest so he could examine his own behavior.
Anger among LGBT
Spacey has been accused by some in the LGBT community as seeming to make a connection between being gay and sexual abuse of minors.
Civil rights activists and others suggested that Spacey had betrayed the LGBT community to detract from "personal failings."
For example, DeRay Mckesson:
While, musician Lance Bass wrote on Twitter:
Sarah Kate Ellis, president and CEO of the gay rights group GLAAD said in a statement that the story was really about unwanted sexual advances on Rapp and not Spacey's sexuality. "Coming out stories should not be used to deflect from allegations of sexual assault," she said.
amp, jbh/rc (AP, AFP)