Barely a day passes without boats that are hardly seaworthy making their way from the coast of Libya towards Europe. On board are desperate refugees in search of a better future.
Reports about disastrous shipwrecks with hundreds of people drowning are increasing by the day. Instead of dealing with the emergency as one would expect, a strange silence prevails at the Libyan coast guard in the capital Tripoli. It's almost as if no one is at work.
Rather than counting the boats at his disposal, Shubi Bisher who is in charge of operations, counts the boats that need repairs. He complains that there is a lack of spare parts. "I have a private boat, we use that sometimes," Shubi said. "We use our own facilities."
Since January 2015, the Libyan coast guard no longer goes out on patrol. They only operate when they get information that a refugee boat is making its way to the Italian island of Lampedusa. The 1,800 kilometer-long (1,118 mile) Libyan coastline makes it hard to detect all tugs and refugee boats heading towards Italy. Lampedusa lies around 300 kilometers away.
One million people on 'waiting list'
According to estimates by the European Commission, nearly one million people are waiting in Libya to make their trip to Europe. Anyone caught by the police without a valid residence permit ends up in a Libyan detention center.
Former Libyan president Moammar Gadhafi had a close cooperation with Europe on migration.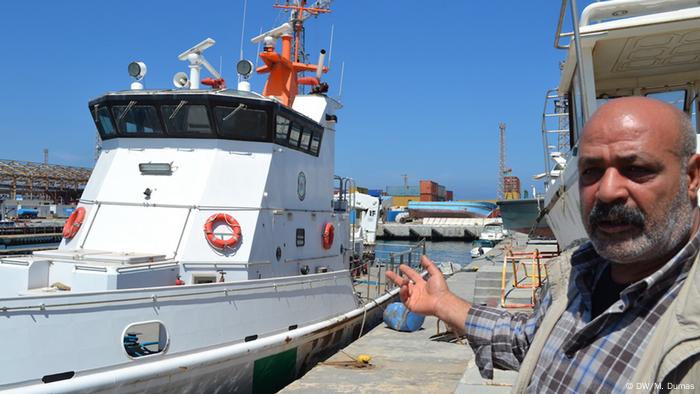 The Libyan Coast Guard suffers from depleted resources
Libya supervised its coast and prevented refugees from leaving Libyan territory. Instead they were kept in detention centers. Human rights groups allege that rape and torture were common inside these camps.
But since the fall of Gadhafi in October 2011, the Libyan state rapidly collapsed. Different militias now control large parts of the country, making it easy for human smugglers to traffic immigrants across the country, and cram them into boats heading to Europe.

Mohamed Baithi, head of Libya's coast guard, says most of the migrants do not wish to return to Libya. "They want to go to Europe, sometimes if we bring them back, they cry or they try to destroy our boat," Baithi told DW in an interview. Most refugee boats send out distress calls which are picked up by the coast guard. Merchant ships or nearby fishing vessels are then obliged under international maritime law to come and rescue the refugees. "They must take all these people on board," Baithi said.
Deplorable detention camps
Lamin Kebe sits barefoot in the courtyard of one detention camp located in Zawiya, some 50 kilometers west of Tripoli. The Senegalese national is one of the 8,000 migrants currently holed up in such a camp, according to the current Libyan Interior Minister Khalifa Gwell.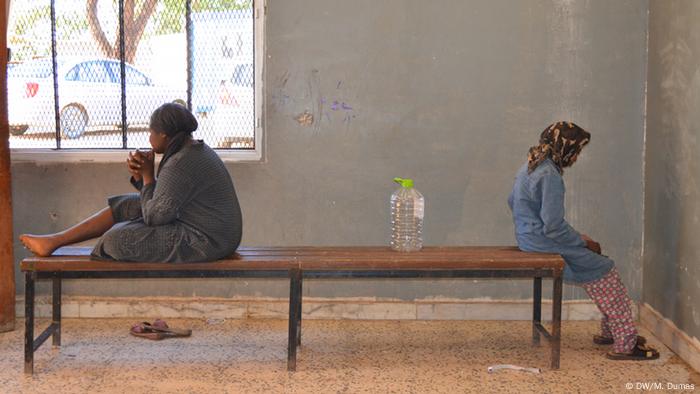 The inmates of Libya's detention camps include women and children
Kebe came to Libya a year ago in the hope of finding a better life. "I wanted to work, build myself a future," he told DW. If it had worked out in Libya, Kebe would have stayed there. "If not, then I would try to have myself smuggled out of the country," he said.

Despite harsh conditions in the detention centers, Zawiya Kebe and about 420 other detainees still carry the hope that brought them to Libya. They are held for weeks or months by Libyan authorities.
During that time, they may not work or leave the country. "They lock us inside our rooms and treat us like dogs," says 19-year-old Boubaker Bari from Guinea. He says guards occasionally beat and insult them. "They wear respirators because they say we stink." Only five showers are available for the more than 400 inmates.

No help from Libyan authorities
The poor conditions in the camp are causing friction. The migrants are becoming increasingly violent says Lieutenant Khaled Attumi, head of the Zawiya detention center. "They constantly try to escape and yesterday they tried to beat up a policeman."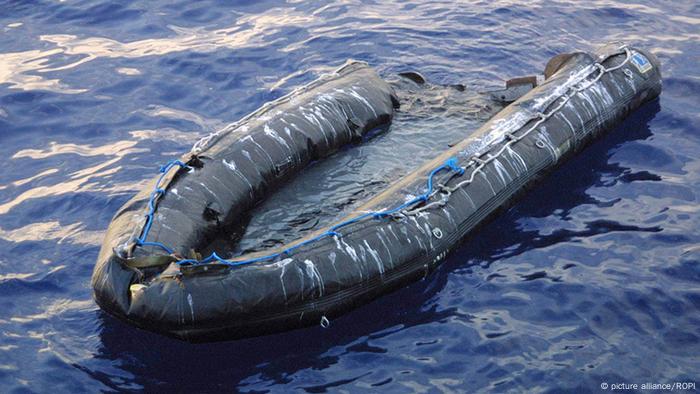 Migrants risk their lives in flimsy dinghys
Attumi says he understands the situation the migrant detainees find themselves in. "The food is bad - sometimes they get bread, sometimes they don't," he said. "This is now the third year in a row that the government has not provided a single dinar for this institution, what can I do? If it continues like this, I will let them run away."

That would open up the way for yet more migrants to try to come to Europe. Libyan coast guard Shubi Bisher says the refugees know that they are risking their lives. "In January, a fishing boat crew found four bodies hanging in their net but the coast guard does not even have money for body bags," Shubi said. "It's a disaster."