Planned talks over the refugee crisis at a two-day EU summit beginning Thursday have been largely overshadowed in recent days by British Prime Minister David Cameron and his proposed reforms for the EU.
Ahead of the EU summit's first day, however, German Chancellor Angela Merkel reminded her EU peers that they must tackle the migrant crisis during the summit.
Europe has seen the arrival of more than 1 million refugees via Turkey and Greece in the last year - many of whom have sought asylum in Germany.
While facing increasing pressure at home over the number of refugees entering the Germany, Merkel has warned that the other 27 EU member states must also take responsibility for some of the asylum seekers.
Speaking Wednesday in the lower house of Germany's parliament, the Bundestag, Merkel also said Europe should work with Turkey to improve the lives of Syrian and other refugees currently in Turkey.
"Our goal is to drastically and lastingly reduce the number of migrants so as to better help those people who really need our assistance," Merkel said.
European unity
EU Parliament President Martin Schulz reiterated Merkel's call for solidarity early on Thursday, arguing that "the migration crisis can only be resolved through European unity."
"Distributing 2 million refugees across 500 million people in 28 countries should work without a lot of fuss," Schulz told German media group RND.
There are still countries in the EU that are "shirking responsibility," Schulz criticized, adding that he expected "pragmatic politics" from the bloc's leaders at the summit.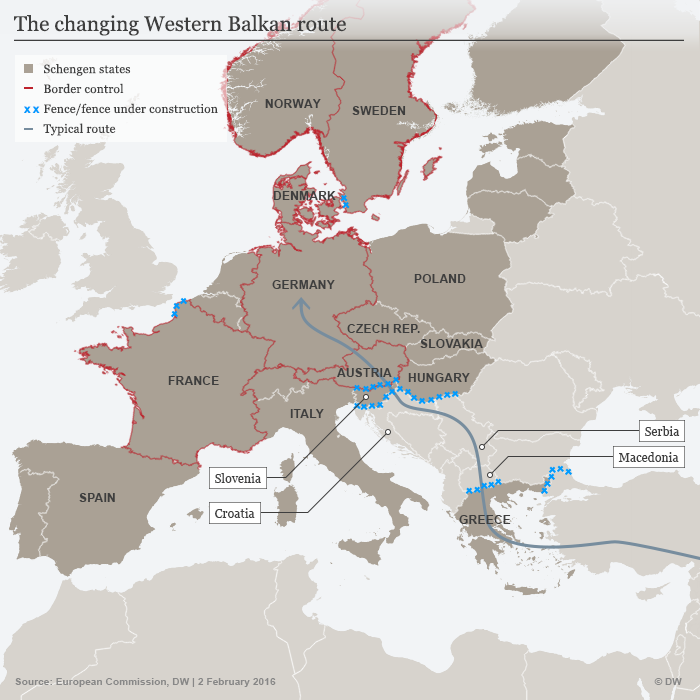 EU members Austria and Hungary, as well as their Balkan neighbors, have already reintroduced border controls to stem the influx of refugees, jeopardizing the passport-free Schengen zone based on the principle of free movement.
"It's crucial that we continue to grapple with resolutions at the summit today and tomorrow," Schulz said, warning that a blame game was not the way forward in the current situation.
Schulz, who is also a member of the German Social Democratic Party, supported the German chancellor arguing that in the "emergency situation" the German government had "responded correctly."
Lawsuit against refugee policy
Criticism of Merkel's refugee policy continues to be heard, however, from members of the German Christian Social Union (CSU), the Bavarian sister party to Merkel's Christian Democrats (CDU).
CSU politician Peter Ramsauer called on Thursday for his party leader, Bavarian Premier Horst Seehofer, to file a swift lawsuit against the German government's refugee policy.
"[The Federal Constitutional Court] must clarify as soon as possible whether the chancellor's refugee policy abides by our constitution or not," Ramsauer told German paper "Passauer Neue Presse."
"The problem has reached a seemingly uncontrollable extent," Ramsauer said. "We are facing a social crisis."
'National deportation plan'
Bavarian Finance Minister Markus Söder also called on Thursday for a "national deportation plan" that was "harmonized" across Germany's 16 states.
"We can't have refugees, perhaps deliberately, traveling to states where the risk of deportation is the lowest," the CSU politician told Thursday's edition of "Die Welt."
"If you look at the current numbers of recognized refugees as a basis, 350 000 people would have to be deported this year," Söder said, adding that the proposed deportation must by carried out "consistently and quickly."
ksb/sms (Reuteres, AFP, AP, dpa)