German newspaper commentators said in their Thursday editions that clashes in the two northern cities on Tuesday evening had illustrated the potential spillover impact of the Middle East's complex conflicts.
On Tuesday evening, an initially peaceful demonstration outside Hamburg's Al-Nour mosque by Kurdish immigrants - protesting inaction as "Islamic State" (IS) jihadists made gains in Syria's northern city of Kobani - turned violent.
Police said the protestors were confronted by 400 men, mostly salafist Muslims. Squads used water cannon and batons to keep apart hundreds of men, many armed with knives and improvised weapons.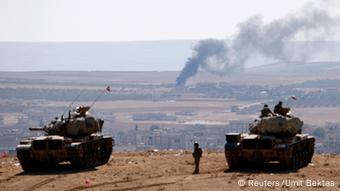 Turkish tanks are situated near the border, but they haven't moved across it
The mosque's administrative head Daniel Abdin described the turn of events as "terrible" and said several Salafists had entered uninvited.
"They were complete strangers who we did not know, " Abdin said.
Kurdish plight 'stirs emotions'
There were also fights after dark between Yazidis - a minority persecuted in Iraq by IS fighters - and mostly Chechen Muslim immigrants in Celle, an administrative city near Hannover. Nine people were hurt.
German foreign ministry spokesman Martin Schaefer said, while the plight of Kurds trapped in Kobani had stirred emotions, this did "not justify breaking the law" in Germany.
Schaefer added that it was not for Berlin to give advice to NATO member Turkey, which has forces massed on its border near Kobani but remains inactive while Kurdish fighters try to fend off the IS advance over the border.
Hamburg's Abendblatt said the warfare in Syria and Iraq had led to "riots in Hamburg."
The Westdeutsche Zeitung newspaper based in Düsseldorf, the capital of Germany's most populated state of North Rhine-Westphalia said it hoped that the largely peaceful protests by Kurds would stay that way.
On Saturday, Kurds plan a rally in Düsseldorf in solidarity with Kobani's Kurds.
"Hopefully it stays peaceful [in Düsseldorf], the Westdeutsche said.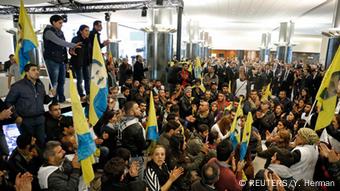 Earlier in the week, pro-Kurdish demonstrators entered the European Parliament building in Brussels
One of Germany's major dailies Die Welt described the police handling of the incidents in Hamburg and Celle as "professional," but added that integration could only succeed when the rules of living together were made "unmistakably clear."
Hannover's Allgemeine Zeitung said Germany risked being turned into a "side stage" of a conflict-laden world politics. The melees in Hamburg and Celle were, it said, an expression of the "blurring of borders in the war propagated by the IS."
A taste of things to come?
Chemitz' Freie Presse newspaper said the clashes were a "foretaste" of what could happen if Germany continued to just watch Ankara tack to-and-fro between its old foe, the Kurdish wish for autonomy, and Islamist radicalism.
Germany is home to an estimated four million Muslims, one million Kurds and 60,000 Yazidis - mostly integrated. Interior Minister Thomas de Maiziere said recently that some 6,000 people in Germany had ties to radical Salafism.
Osnabruck University Islamic studies expert Bulent Ocar said the conflicts in Syria and Iraq had "emotionally impacted" on many such migrant families.
The chairman of Germany's Central Council of Muslims, Aiman Mazyek told the news magazine Spiegel Online that German society had to "do everything to avoid hateful proxy wars on our streets, because that is what the radicals want."
ipj/rc (dpa, AFP)