Instead of moving swiftly against the culprits behind the rape and murder of an eight-year-old girl, identified as Asifa, a debate over political and religious divides in India has left the country reeling from shock and anger.
"If you can read this without your blood starting to boil you need to take a long hard look at yourself," tweeted former Jammu and Kashmir chief minister Omar Abdullah after the police investigation report became public. Sordid and frightening details have emerged from the police chargesheet filed for the gang-rape of Asifa in Kathua, in Hindu-dominated Jammu, in January this year. The child was allegedly kidnapped, confined using sedatives, and gang-raped before being brutally murdered.
Read more: Opinion: Rape becomes a political tool in India
Politicization of rape
The chilling 18-page charge sheet names eight, including a juvenile, accused of the rape and murder of Asifa, who went missing near her house in Kathua on January 10. Her body was found seven days later in a nearby forest.
Police have maintained that the crime was committed in a bid to punish the Gujjar Bakarwal pastoral community, the nomadic Muslim group Asifa was part of, and scare them away from Kathua. This community inhabits the entire Kashmir region and the Nuristan province of Afghanistan.
Read more: Why implementing child bride verdict is a challenge in India
But it was when Jammu-based lawyers and politicians, mostly from India's ruling Bharatiya Janata Party (BJP) and fringe outfits like the Hindu Ekta Manch (Hindu Solidarity Unit), rallied in support of the accused earlier this week that the case took on a communal tone. Protesters attempted to block the police from filing the chargesheet, showing their contempt for the judicial process in India.
Two days earlier, the bar association had called for a shutdown of Jammu, demanding the investigation of Asifa's murder be carried out by India's Central Bureau of Investigation instead of by the police; as well as the rollback of the controversial tribal policy, and the expulsion of Rohingya refugees from Jammu and Kashmir. Protesters blocked the Jammu-Pathankote National Highway in several places and burnt tyres on the highway, bringing the movement of traffic to a grinding halt.
Read more: Rape of 8-month-old baby sickens India
"Today there is the country's tricolor in our hands, tomorrow it will be AK-47 guns if our demands are not met. This is all appeasement politics," B S Slathia, President of the Jammu Bar Association, told DW from Jammu. He is leading the campaign against the police investigation, alleging bias.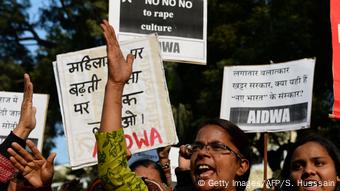 Thousands protested in Delhi in January 2018 over the gang rape and murder of two Indian schoolgirls
Politicians fail to react
The community has reacted strongly to the case; with protests in the Kashmir Valley, a midnight candlelit march by Congress President Rahul Gandhi in the national capital New Delhi and sporadic sit-down protests by civil society groups across the country. "Like millions of Indians my heart hurts tonight. India simply cannot continue to treat its women the way it does," Gandhi said in a tweet.
Even as Jammu observed a shutdown, protests demanding justice for Asifa were held in Srinagar, the region's capital. "Why is the accused being shielded? It is shocking to see this happening and to give protection to culprits of such evil. Are we humans?" Rasool Ahmad, a social rights activist, told DW from Srinagar.
Read more: #MeToo in India: 'Women's rights need more than just a social media campaign'
However, as outrage mounts over the brutal rape, there has been a conspicuous silence on the part of Prime Minister Narender Modi, who in 2015 launched the campaign "Beti Bachao, Beti Padhao" (Save the daughter, educate the daughter) condemning female foeticide in India. "His campaign is more akin to frighten the daughter and kill the daughter," Suhmita Dev, a Congress leader, told DW.
Apart from a handful of junior ministers in Modi's government who made placatory comments, there has been a stony silence from the government and its spokespersons on the issue, which threatens to snowball into a major controversy.
Kashmir on edge
A tense atmosphere pervades Kashmir following Asifa's death, which comes after an increasing number of civilian deaths in the Kashmir Valley and a surge in violence. This has put the spotlight on Chief Minister Mehbooba Mufti, whose Peoples Democratic Party (PDP) has maintained an uneasy alliance with the BJP in the state since 2015.
Read more: How India's Muslims view the Kashmir dispute
She is yet to speak publicly about the events leading to the current impasse or initiate any action against the two BJP ministers who were part of the rally, but tweeted saying, "The law will not be obstructed by the irresponsible actions and statements of a group of people."
Two senior ministers Lal Singh and Chandra Prakash Ganga joined the Hindu Ekta Manch rally in support. "We will be taking stock of everything and we will do everything to provide justice to this daughter. We will ensure that those who raped and murdered her are punished," Law Minister Abdul Haq Khan told DW.
Given the political and religious faultlines in the state, a trigger like this could escalate into another crisis. The state tourism minister Tassaduq Mufti told the Indian Express newspaper that both parties "ended up being partners in a crime [for which] an entire generation of Kashmiris might have to pay with their blood," a scathing indictment of the PDP-BJP alliance that many find unworkable.
But aside from the political debate Asifa's rape and murder has prompted, the incident has once again drawn into sharp focus the abhorrent sexual violence perpetrated against women and girls in India and the stark lack of action to prevent it.