At first glance deliveries of eco-friendly solar and wind energy from Portugal to Central Europe look great because both can be produced in abundance at the western end of Europe at reasonable prices. There is one problem though — a 3,000-meter-high obstacle called the Pyrenees Mountains, which cut off the Iberian Peninsula from France.
But things are about to change now because Portugal, Spain and France decided at the end of last month to simply bypass the mountains. An investment of around €2 billion ($2.28 billion) will soon create a better connection between Spain and Portugal and the European energy market.
Read more: Somewhere between crisis and boom in Portugal
By 2025, an underwater power line is supposed to be laid in the Bay of Biscay. By 2030, 15 percent of the networks in the Iberian Peninsula and France will be linked, well over today's 5 percent.
Portuguese Economics Minister Manuel Caldeira Cabral called the decision a "historic event" that would end "Portugal's years of energy isolation."
The end of isolation
"The governments of the three countries have sent a political message that they want to seriously participate in the European energy network," says Antonio Sa da Costa, chairman of the Portuguese Renewable Energy Association APREN. But while the Portuguese economy minister is already dreaming of supplying Central Europe with cheap Portuguese electricity from renewable sources, Sa da Costa shows a bit more restraint: "There is still a lot to do before that happens."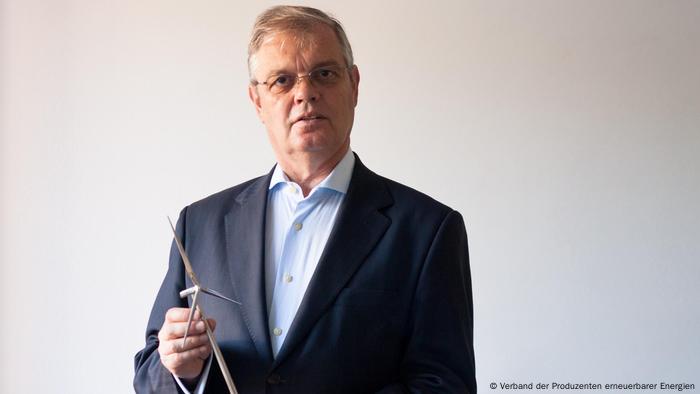 Antonio Sa da Costa from the Portuguese Renewable Energy Association is pleased about recent 'political signals'
On the one hand, Portugal has made good use of renewables with wind and hydroelectric power stations — it even manages to cover its own energy needs for extended periods without using conventional power plants. On the other hand, the production is relatively expensive and solar energy is barely in the mix, despite the sun shining so often.
Francisco Ferreira from the environmental protection organization Zero warns though that the flow of energy may go in the opposite direction. France may use the new connections to channel its artificially cheap nuclear power toward Portugal.
Read more: Chinese eyeing of Portuguese assets raises some hackles
"In order to prevent that from happening, the Portuguese government must urgently provide price guarantees for the production of green electricity to encourage investment. But up to this point they have been rather stingy with subsidies and would like to get rid of them completely," says Ferreira.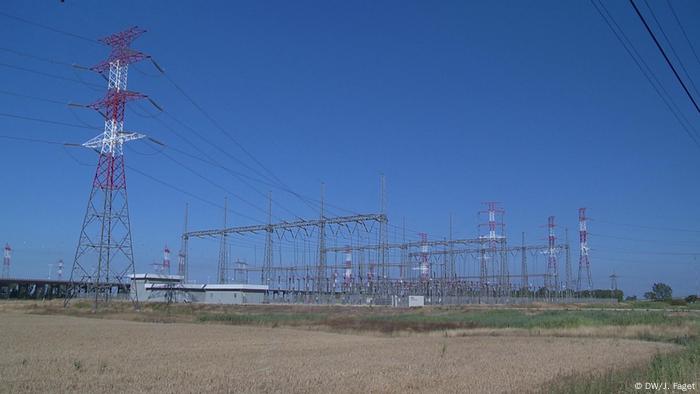 Portugal has come a long way in terms of production and use of renewable energies
"In the end, the price will decide who delivers energy where," says Sa da Costa. "In order for us to export electricity, prices must also reflect the secondary costs of production." He sees gas as the real competition in the future and not nuclear power, which will be phased out in the long run anyway. In order for electricity to really flow freely though, the EU must also work on the CO2 cap-and-trade emissions scheme to create fair prices.
Connecting to Morocco
At the same time, Portugal wants to improve the energy connection to Morocco and thus become more independent from its continental neighbors. So far, there are two connections through the Mediterranean near Gibraltar. Portugal wants a third.
A direct link with Morocco would expand the market for Portuguese renewable energy producers, says Cabral. In return, Morocco could supply environmentally friendly solar power to the Iberian Peninsula and beyond.
However, since Spain only wants to expand the existing lines, Portugal is already looking for investors for the project which is expected to cost around €700 million. According to the energy minister, these costs will not be passed on to energy consumers.
The Portuguese already pay the fourth-highest electricity bills in Europe, because in the past governments gave too many perks to then state-owned energy monopoly EDP. Additionally, during the Portuguese financial crisis they increased value added tax (VAT) on energy from 6 to 23 percent. Exported energy has the added benefit of being VAT-free.