Russian President Vladimir Putin opened a commuter rail bridge between Crimea and the Russian mainland with a ceremonious train journey on Monday, as Moscow continues to cement its influence on the peninsula since its annexation in 2014.
He crossed the 19-kilometer (12 miles) bridge from Kerch on the Crimean side to the Taman peninsula on mainland Russian accompanied by construction workers. Spectators watched the crossing on a screen from Taman Passazhirskaya station.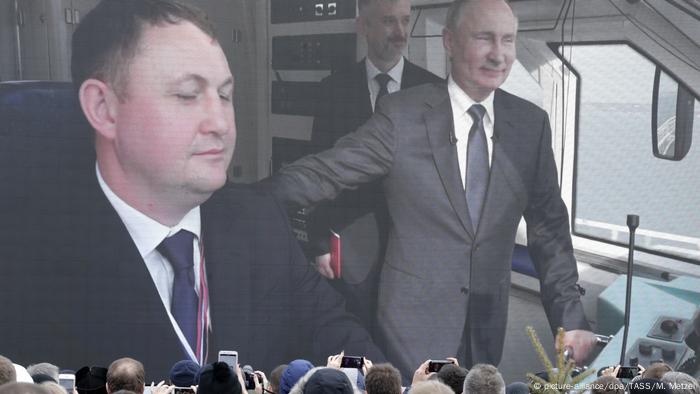 Putin rode shotgun for the TV cameras on the inaugural crossing
The railway bridge was finished on December 18. Monday's journey marked the first time that trains have traveled from the peninsula since 2014, when Russian troops moved in to support separatists. A subsequent referendum leading to the annexation of Crimea from Ukraine was met by international condemnation and a raft of sanctions.
Putin congratulated construction workers on completing the bridge, saying that "it has proven our ability to carry out large-scale infrastructure projects."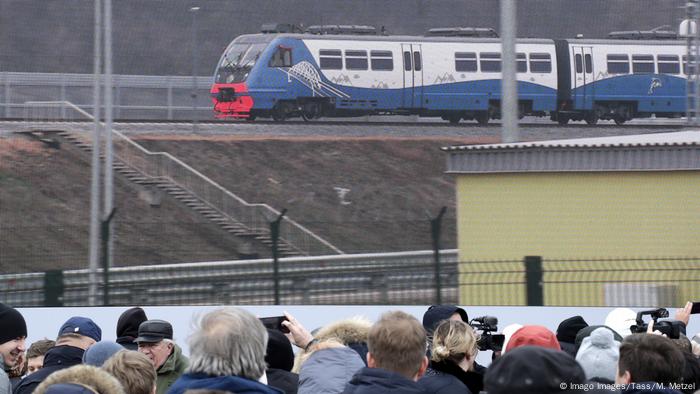 People watched the rail crossing on a screen from Taman
Reconnecting Crimea
The $3.6 billion (€3.25 billion) bridge consists of parallel automobile and railway sections. Planning for construction began in 2014. The automobile segment of the bridge was formally opened by Putin in May 2018 and made available for cargo traffic in the autumn of the same year. The railway bridge will open to freight trains in June 2020.
Prior to annexation, train traffic ran between Simferopol and Sevastopol in Crimea to cities in Ukraine, Russia, Belarus and Poland. Since traffic was interrupted only suburban trains have kept running inside the peninsula.
Moscow has funneled significant resources into Crimea's infrastructure since the annexation referendum, including building two new power stations.
The opening of the bridge to commuter traffic now makes it possible to travel between St. Petersburg and Sevastopol, with the journey lasting nearly 43 hours. The first train undertaking this mammoth journey was timed to arrive in Crimea shortly after the St. Petersburg-born Putin opened the bridge.
kmm/cw,msh (dpa, AP)
Every day, DW's editors send out a selection of the day's hard news and quality feature journalism. You can sign up to receive it directly here.