Russian President Vladimir Putin admitted on Thursday during his annual press conference that Russian military personnel were in eastern Ukraine carrying out "certain military tasks" - though he denied a regular troop presence in the region.
"We never said there were no people there who were carrying out certain tasks including in the military sphere," Putin told an annual news conference. "But that does not mean there are Russian troops there, feel the difference."
His remarks are a shift in the oft-repeated line that Russia is not backing pro-Moscow separatists who have been warring with pro-Kiev forces since last year. Putin also said Moscow is ready to persuade separatists to work toward a political compromise and said he expects relations with Ukraine to further deteriorate following its decision to enter a trade deal with the European Union.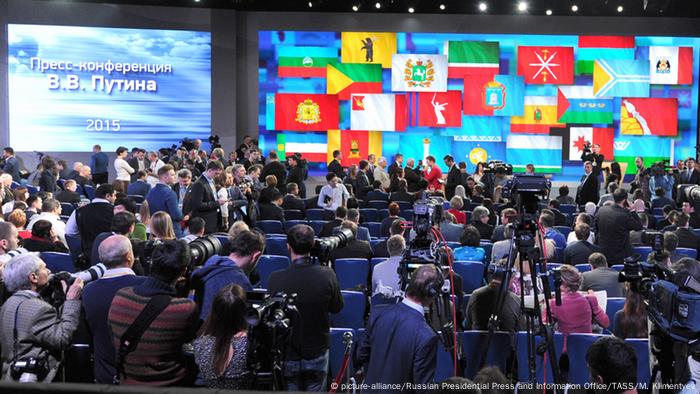 Some 1,400 journalists packed Moscow's World Trade Center for Putin's annual press conference.
On Syria
The 63-year-old president said Russia's military operations in Syria will continue until talks over a meaningful political settlement get underway.
He added that once the Syrians decide it's time to stop fighting and open dialogue, "[Moscow won't] be more Syrian than the Syrians themselves," and will wrap up its military strikes that include air raids and cruise missiles against foes of Syrian President Bashar al-Assad.
Putin, who met with US Secretary of State John Kerry earlier this week, said Moscow supports a US draft of a UN Security Council resolution on Syria.
On Turkey
Putin had harsh words for Ankara as relations have nose-dived since Turkey downed a Russian warplane it said had violated its airspace for a matter of seconds.
"We see the action of the Turkish authorities towards our plane ... as a hostile act," Putin said. "It is hard for us to reach agreement with the current Turkish leadership, if at all possible."
He said Moscow would not be cowed by Turkey, a NATO member. "What have they achieved? Maybe, they thought that we would run away from there (Syria)? But Russia is not such a country," Putin said.
During the wide-ranging press conference, many members of the Russian press corps cheered and applauded and asked fawning questions.
Political fixture?
Putin, who has largely led the country as either president or prime minister since being anointed prime minister in 1999 by his predecessor, Boris Yeltsin, gave no indication he was on track to relax his grip on power or shake up his inner circle.
Riffing on the theme of political stability, Putin said there were no surprises in store.
"I am very considerate towards people, as is seen from my long stint in the job, and I think that personnel reshuffles, as a rule, are disruptive," he told reporters. "There are no significant changes in the pipeline."
But he did admit that Russia, a major energy exporter, faces acute economic challenges especially as oil prices plunge to new lows. "We had calculated next year's budget based on $50 per barrel," he said. "This is a very optimistic valuation today. Now it's already $38. That's why we will have to correct something there."
But he moved to assure the public that the economy is on the upswing.
"The Russian economy has passed the crisis. At least, the peak of the crisis," he said.
jar/sms (AP, Reuters,dpa)