Protesters in the oil-rich province of Basra took to the streets for the sixth straight day on Sunday to demonstrate against unemployment, corruption and poor services.
Dozens of demonstrators were wounded in clashes with police in Basra city on Sunday after protesters attempted to storm the governor's headquarters, according to a reporter with news agency AFP. Police fired water cannons and tear gas to disperse protesters.
Iraqi Prime Minister Haider al-Abadi, who is also commander-in-chief, ordered troops and reinforcements to Basra and several southern cities in a bid to quell the unrest. There were also widespread reports of the internet being shut down or throttled across parts of the country.
On Friday, Abadi rushed from a NATO summit in Brussels to Basra to meet with local officials and tribal leaders in a bid to restore calm. He was met with a growing wave of protests despite summer temperatures that reach 49 degrees Celsius (120 Fahrenheit).
On Saturday, he announced investments worth $3 billion (€2.6 billion) for Basra province and promised to provide jobs, housing, schools and services.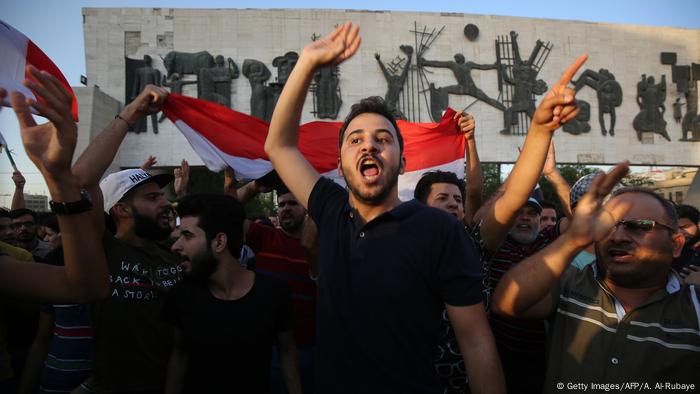 Protesters in Baghdad demonstrate against unemployment, corruption and poor services
Anger boiling over
Demonstrations that began last Sunday in Basra province have since spread to the cities of Amara, Nasiriya, Karbala and the Shiite holy city of Najaf. There were also protests in parts of the capital, Baghdad.
In Najaf on Friday, protesters shut down and torched part of the airport. Also on Friday, protesters blocked access to the key oil export port of Umm Qasr in Basra as well as several oil facilities outside the city.
The protests have led to attacks on party offices, including those of Abadi's ruling Dawa party and the Iranian-supported Badr Organization.
Dozens of protesters have been injured, and two protesters were killed Saturday in Maysan province, bringing the total death toll to three in the past week. It was unclear how the protesters died on Sunday.
Protesters have a host of grievances against the government, including high unemployment, water and electricity shortages and poor governance in Iraq's oil-rich region.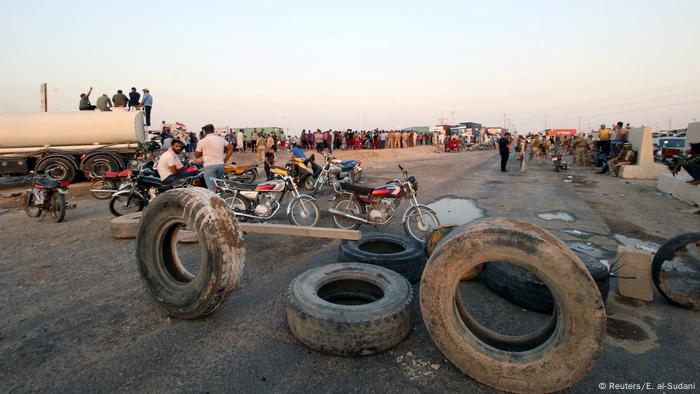 Protesters block the road to Iraq's main Umm Qasr port, south of Basra
Top Shiite cleric backs protests
On Friday, protesters got a boost from Iraqi's top Shiite cleric, Grand Ayatollah Ali al-Sistani, who offered solidarity with the people during a sermon.
"The dear governorate of Basra is the number one in providing the country with financial revenue. And it is the number one in the number of martyrs and those who have been wounded in the fight against the Islamic State group terrorists," said Sheikh Abdul Mahdi al-Karbalai, speaking on behalf of the reclusive and apolitical grand ayatollah, whose words move millions of followers. "So it is not fair, indeed it is not acceptable, that this governorate is one of Iraq's poorest."
Basra and southern Iraq are predominantely populated by Shiite Arabs.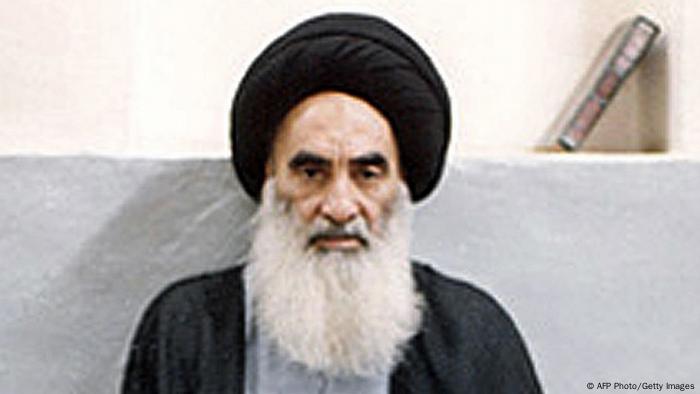 As the spiritual leader of Shiites in Iraq, Sistani wields tremendous power and his word is followed by millions
Government in limbo
The protests come as Abadi is in charge of a caretaker government following May elections that witnessed low turnout as many Iraqis shunned the corrupt ruling class.
A coalition of Communists and a bloc led by Shiite cleric Moqtada al-Sadr won the most votes on an anti-corruption platform. Sadr has so far backed the protesters, although he has urged them to refrain from violence.
Read more: Who is Muqtada al-Sadr, Iraq's influential Shiite cleric?
Sadr has sought to form a broad coalition with other parties including Abadi's Dawa.
However, the already complicated Iraqi government formation process has been drawn out by a manual recount of some of the votes amid allegations of fraud.
Abadi's caretaker status and ongoing government formation talks mean that his pledges to invest in Basra may not be implemented, and even if they were, there is little guarantee money would not be siphoned off through corruption.
rs, cw/sms (AFP, AP, Reuters)
Each evening at 1830 UTC, DW's editors send out a selection of the day's hard news and quality feature journalism. You can sign up to receive it directly here.