The so-called "Global Gag Rule" requires foreign organizations receiving US aid not to have anything to do with abortion. It restricts such organizations from providing abortion services, information, counseling or referrals, or advocate for abortion legislation – even if these are paid for by non-US funds.
The rule, which is also known as the Mexico City Policy, has been enacted by every Republican US president and rescinded by every Democratic president since 1984. When President Donald Trump reenacted it in 2017, however, he went a step further than his predecessors.
He expanded the Global Gag Rule to cover the US's global health assistance – some €9.36 billion ($10.6 billion) in health funding in 2017 – whereas previously it only affected family planning aid worth €536 million.
The US is the world's biggest global health donor and its aid covers a wide range of essential health services, from vaccinations and nutritional supplements to treatment for HIV/AIDS and malaria.
Health providers forced to chose
Because of the sheer scale of US health aid, when a clinic in Africa has to chose between losing US funding or providing reproductive health care – it often chooses to stop offering abortion services.
Alternatively, facilities that decide not to comply with the US restrictions lose much-needed foreign aid leading to cuts in other services, such as access to contraceptives or cervical cancer screening.
Either way, the Global Gag Rule is negatively affecting women in Africa, especially the poorest of the poor, say reproductive rights organizations.
"Young people and women living in rural areas at the lowest levels of poverty are the most impacted for not being able to access services," said Suzanne Ehlers, President of Population Action International, a Washington-based reproductive health organization.
Clinic closures in Ethiopia, rising fees in Kenya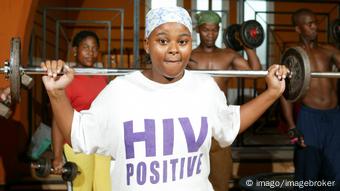 The fight against AIDS is another casualty of the Global Gag Rule
In a fact-finding mission to Ethiopia earlier in 2018, Population Action International found that adolescents and youth, people living with HIV/AIDS and sex workers in the country were directly affected by the closure of health clinics previously supported by the US.
An estimated ten sex and reproductive health clinics and 21 youth sexual health clinics have closed in Ethiopia as a direct result of the US restrictions, said Dereje Wondimu from Ipas, an international reproductive rights organization.
This means close to one million women a year in Ethiopia will no longer have access to sexual and reproductive health services, Wondimu told DW.
Fees for basic health care have skyrocketed in some areas of Kenya, says Caroline Nzandati, reproductive health coordinator at the Kisumu Medical and Education Trust.
"For example, there was a facility that was charging $3 for cervical cancer service, immunization cost $2, family planning about $5. So if you added that up, a woman can't afford it and they would rather not access the service," explained Nzandati.
Previously, women would only pay $2 for the whole package, she said.
Unplanned pregnancies on the rise
The rate of unintended pregnancies has increased – partly because of decreased access to contraceptives and partly because of cuts to abortion services.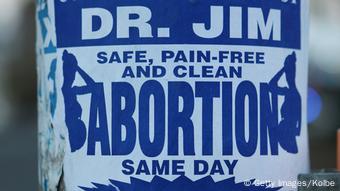 Deaths from backstair abortions are on the increase in Africa
Such unplanned pregnancies can have a range of knock-on affects, such as "ending a girl's education, contributing to child marriage, resulting in health complications, or putting a woman's life at risk," according to Human Rights Watch.
The numbers of unsafe abortion have also increased, driving up the maternal rates of mortality in many African countries, Ehlers said.
Ehlers believes the current policy won't change as long as President Trump is in the White House. But she says it is still important for reproductive rights groups to keep up the pressure.
"What we need to do is work in partnership with groups around the world, to make sure that they really understand the policy, they understand what they can do and what it doesn't let them do," she said.
"I think we also need to continue to cooperate with governments both in Africa and donor countries to make sure they put additional resources towards this."
Additional reporting contributed by Kate Hairsine