DW: Nearly a week after the Echo prize ceremony, the controversy surrounding the award given to hip hop duo Kollegah and Farid Bang keeps growing, with several artists returning their awards in protest and you leaving the award's advisory board on Tuesday. Did the German Phono Academy [the cultural institution behind the prize] underestimate the reactions that would follow the award?
Christian Höppner: I believe no one could have predicted they would reach this scale, considering how the phenomenon of gangsta rap, which aims to provoke and test limits, has developed over years.
We as a society have not been very vigilant with the question: How should we deal with anti-Semitism, hate, violence against women and discrimination?
Read more: Germany's Merkel warns of increased anti-Semitism on Holocaust Remembrance Day
Now the Echo prize academy plans to reconsider its selection process, mainly based on sales numbers. Yet the entire controversy could have been avoided. In 2013, Frei.Wild's nomination had been withdrawn because of the band's right-wing lyrics. Why was a different decision taken this year?
At the time, we had not reached today's level of acceptance of provocation. There are many other cases that have arisen since, if you look at the Böhmermann case or the politicians [from the far-right Alternative for Germany party, AfD] calling Turks "camel jockeys." The escalation in provocation has gone too far in our language and in the arts, especially music.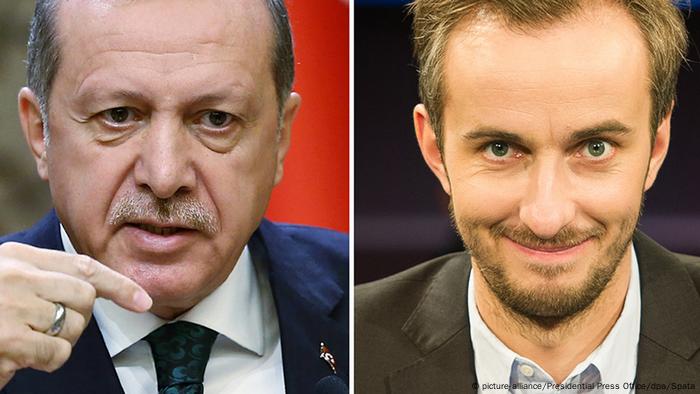 Satirist Jan Böhmermann (r.) sparked a debate on artistic freedom with his poem insulting Turkish President Erdogan in 2016
Isn't it too easy to claim that now that the AfD is in parliament, the Echo committee couldn't do otherwise but give a prize to musicians who compare their bodybuilder muscles to those of Auschwitz inmates, which, clearly, are lyrics that go too far?
Apparently parts of our society do not know that.
Society didn't decide on the prize winners, but rather the Echo prize committee.
Allowing musicians to be nominated is one thing, letting them perform and award them a prize is a completely different thing. I had already criticized the organizers of the event for allowing this.
For such controversial issues, the Echo prize has an advisory board, which you were part of until your resignation. Once a nomination is allowed, you must also expect that nominee to be a potential winner. Why did the advisory board then give its greenlight?
It was a struggle between two constitutional principles, human dignity and artistic freedom. The question we needed to answer was: Should the nomination be allowed? We didn't say that they should obtain the prize or perform, even though we knew that could happen.
Read more: Germany's Echo prize to reconsider award process after anti-Semitic controversy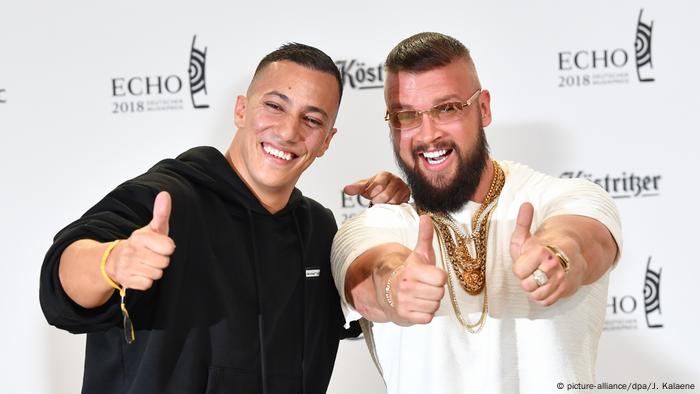 Controversial yet popular: rapper duo Kollegah and Farid Bang
Insults are a stylistic device in battle rap. They can be very polished and witty or heavy-handed. When low-level insults are only there to grab attention, it's a misuse of the concept of artistic freedom. Isn't an advisory board there to prevent such violations of artistic freedom?
That is true, but it quickly becomes a matter of individual taste and perceptions. Battle rap is an artistic format and not an artist's political declaration, we need to underline this. I personally find these texts hideous but artistic freedom is a constitutional principle.
Beyond legal frameworks, we need to ask ourselves as a society what we collectively view as a proper approach to human dignity. There is no social consensus on this issue currently, but rather a deep split. When songs from Kollegah are downloaded 30 million times, it is no small thing; it shows that we have different positions in society.
Read more: Opinion: Jews face rampant anti-Semitism in Germany, Europe
You are now leaving the Echo advisory board. Why didn't you decide to do this before the awards were given?
I can only repeat myself: We struggled with our decision to protect artistic freedom, especially considering the context in other European countries. You see for example how Hungary deals with artistic freedom. Just like the entire advisory board, I find it difficult to just say: this should be banned.