In an open letter to the BMVI Music Group, which hands out the Echo awards, conductor Enoch zu Guttenberg and Andreas Reiner of the KlangVerwaltung Orchestra wrote on Tuesday that they found this year's Echo awards "a shame."
They are returning their award, joining other highly esteemed artists, including musician, producer and designer of Beatles artwork Klaus Voorman and pianist Igor Levit. German rock giant Marius Müller-Westernhagen also said Tuesday that he no longer wanted to be associated with the Echos and that he would be returning the seven awards he won between 1992 and 2017.
The scandal began with the nomination of rappers Kollegah and Farid Bang for best rap album, whose controversial lyrics include an anti-Semitic verse comparing their toned muscles to those of an Auschwitz survivor.
Even before their win on Thursday — a day of remembrance for Holocaust victims in Israel — Campino , singer of the band Die Toten Hosen, had criticized their nomination onstage, saying he applauded artistic freedom but found that their lyrics had crossed a line.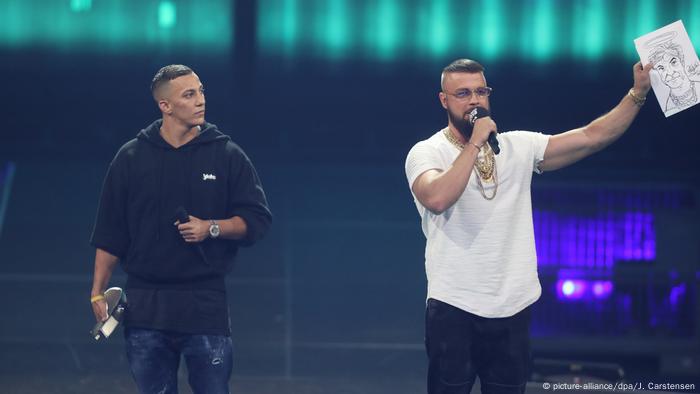 The rappers responded to Campino's critique while on stage, saying they wanted to auction a caricature of him as a saint
Calls for reform
Afterwards, people from across the culture world called for reforms to the Echo selection process, which is mainly based on record sales. "For an award to be handed out, there needs to be a greater value. It cannot just be the sales figures that decide," said Johann Hinrich Claussen, Culture Commissioner of Germany's Evangelical Church.
Those calls had been heeded by Sunday, with Florian Drücke, head of the BMVI, announcing a reform of the nomination and awards process.
Read more: Germany's Echo prize to reconsider award process after anti-Semitic controversy
Musicians return their awards in protest
Still, the controversy has not cooled as musicians continue to return their awards in protest.
Klaus Voorman, renowned internationally for the artwork he designed for legendary bands such as the Beatles and the Bee Gees, had received an award for his life's work at the ceremony. "What had felt like a gift to me on the occasion of my 80th birthday has revealed itself to be a big disappointment," said the artist who will be turning 80 at the end of April.
"Provocation is allowed and sometimes even necessary in order to provide food for thought." But, Voormann added in his statement on Monday, the line has to be drawn when it comes to violent, racist, anti-Semitic and sexist declarations.
Following Voormann's statement, Christian Höppner, President of Germany's Culture Commission resigned from the music prizes' seven-member board. In his resignation, he said, that the format of the Echo prizes was "no longer tolerable in our society." Referring to the music by Kollegah and Farid Bang, he said it was "not for him. I find the text repugnant." He likewise said he had noticed an escalation in hate, racism and violence in music over the years.
ct/eg (dpa, AFP, epd)