Poland's parliament on Thursday voted in favor of a 20 percent pay cut for lawmakers following a controversial bonus awarded to government ministers last year.
The draft legislation received 240 votes in favor, most of them cast by lawmakers of the ruling Law and Justice (PiS) party. Opposition parties boycotted the vote, with some of their members shouting "thieves" during the vote.
Read more: Is Poland's new government a PR stunt or an actual change?
Last year, PiS came under fire after then-Prime Minister Beata Szydlo gave herself and her Cabinet ministers a bonus ranging from 15,000 euros to 19,000 euros ($17,900 to $22,700) on top of their annual salary.
At the time, Szydlo defended her decision, saying she and her government ministers deserved the bonuses for their "hard work." The bonuses amounted to an average worker's annual salary.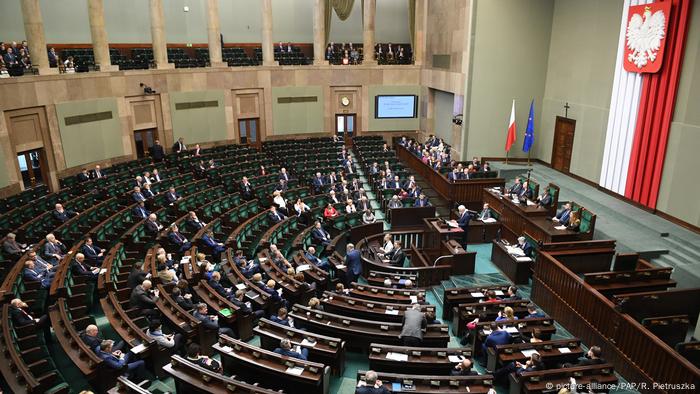 The draft legislation received 240 votes in favor and 2 against after the opposition decided to boycott
'Public demands humility'
PiS leader Jaroslaw Kaczynski, who does not have a formal government position, announced the pay cut last month, saying lawmakers who received bonuses should donate the funds to charities.
"We've seen that the public demands humility and therefore humility will become reality," Kaczynski said.
Read more: Poland's Macron? Mateusz Morawiecki takes the helm
But analysts believe the move is aimed at shoring up support ahead of local elections in autumn and parliamentary elections next year.
"Kaczynski's retreat on the bonuses is part of a wider recalibration by Law and Justice," wrote Politico Europe's senior policy editor Jan Cienski last month.
ls/kms (AFP, AP)
Each evening at 1830 UTC, DW's editors send out a selection of the day's hard news and quality feature journalism. You can sign up to receive it directly here.