Poland had planned to admit an initial 400 refugees this year, and the rest would come in over the next three years. The first refugees were due to arrive in Poland late March or early April.
"After what happened in Brussels yesterday, it's not possible right now to say that we're OK with accepting any number of migrants at all," Prime Minister Beata Szydlo told broadcaster Superstacja.
The Czech Republic, Hungary, Romania and Slovakia voted against the deal in 2015, while Poland had been in favor under the previous Civic Platform (PO) government.
Holding the line
At a press conference in Warsaw Wednesday, Prime Minister Beata Szydlo - of the right.-wing Law and Justice (PiS) party which came to power last October - criticized German Chancellor Angela Merkel for having "invited migrants into Europe."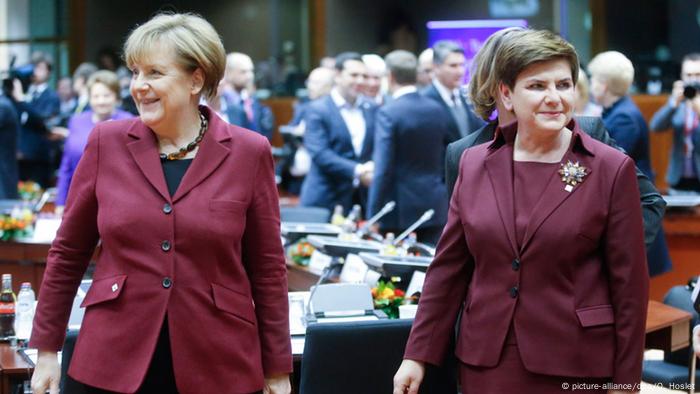 Polish Prime Minister Beata Szydlo (R), with German Chancellor Angela Merkel
"This carefree attitude led to the problems that we have today," she said.
President Andrzej Duda's security advisor Pawel Soloch also warned against rising numbers of refugees. "Let's be careful that 10,000 doesn't turn into 100,000," he told TVN24 broadcaster Wednesday.
Playing to the gallery
The PiS government has clashed repeatedly with the EU's executive over constitutional and other issues since its October election win. It has also been highly vociferous in its antipathy to taking in refugees, with a majority of Poles against the EU's quotas, according to polls.
EU leaders forced through a one-off controversial deal in September to relocate 120,000 refugees among member states. Poland finally agreed to accept more than 5,000 of the 120,000 people to be shared between the 28-member EU - in addition to an initial 2,000. The PO government had pledged to open 10 centers for refugees.
Polish officials now argue the country is already taking in large numbers of people from neighboring Ukraine fleeing the armed conflict.
"Our stance is very cautious, which gives rise to major criticism from other countries in what we call the old EU, who hastily agreed to this influx of migrants into Europe," Szydlo said.
"We're forced above all to ensure the security of our fellow citizens," she added, also urging Europe not to accept "thousands of migrants who come here only to improve their living conditions." Among these migrants, she said, "there are also terrorists."
Szydlo's spokesman, Rafal Bochenek, later told journalists that the government "can't allow for events in western Europe to happen in Poland."
After the attacks in Brussels on Tuesday, Szydlo said; "I regret to have to say that the EU is not drawing lessons from what is happening."
Anti-refugee sentiment growing
Thousands of Poles took to the streets and social media to promote anti-refugee marches across the country organized by far-right nationalist movements such as the National Radical Camp in 2015.
Duda, also of PiS, said in late 2015 that the government should take steps to protect its citizens from refugees bringing in "possible epidemics." This followed PiS leader Jaroslaw Kaczynski's remarks that there is "cholera in the Greek islands" and "dysentery in Vienna." He accused refugees of "bringing in all kinds of parasites, which are not dangerous in their own countries, but which could prove dangerous for the local populations" in Europe.
Physical abuse of Poland's very small number of refugees has also been reported.
About 53 percent of Poles opposed accepting migrants, according to a January survey by the CBOS center. A lower number, 41 percent, were in favor of offering them temporary shelter and 4 percent said the country should allow migrants to settle permanently.
No flag, no problem
Meanwhile, Syzdlo 's press conference in Warsaw took place against a backdrop without the EU flag on display, as is usual, and only the red and white Polish one.
The new government won the election after eight years in opposition and is skeptical about the EU and wants greater independence from Brussels.
"We're an active EU member... but we adopted the approach that statements after government meetings will take place against a backdrop of the most beautiful ... white-and-red flags," Szydlo said.
jbh/msh (AFP, dpa)