Halina Storozhuk is one of more than 900,000 Ukrainian citizens who were officially allowed to work in Poland in 2015. Storozhuk is on her 20th work permit. "Someday in my lifetime, I would like to be able to live in Poland for a longer period of time without having to go back and forth," said the 67-year-old Storozhuk, who has split the past 15 years between Tarnopol, in western Ukraine, and Warsaw, where she works as a geriatric nurse and housecleaner. A visa with work permission is usually valid for three or six months. Storozhuk always returns to Poland as quickly as possible after a permit expires so that she does not lose her employers. She now also supports her grandson, who has been studying in Warsaw for several months. "In Ukraine, there is no chance of decent work and pay for him," Storozhuk said. "Only the rich are able to lead normal lives."
According to Maciej Duszczyk, head of the Center of Migration Research at the University of Warsaw, half a million Ukrainians were residing in Poland at the end of 2015. Many of them work as domestic helpers or in construction or agriculture. As many of them are hired for seasonal work, the number of Ukrainians in Poland varies from month to month. In 2015, a total of 924,000 Ukrainians were issued visas. Half of the visas were only valid for Poland, and the other half for the Schengen Area, as well.
In January, nationalist conservative Prime Minister Beata Szydlo told the European Parliament that Poland had taken in "a million Ukrainian refugees."
According to official numbers, however, only four of 5,328 Ukrainian asylum applicants have been legally granted refugee status. Ukrainian Ambassador to Poland Andrii Deshchytsia said other Ukrainians in Poland were foreign workers.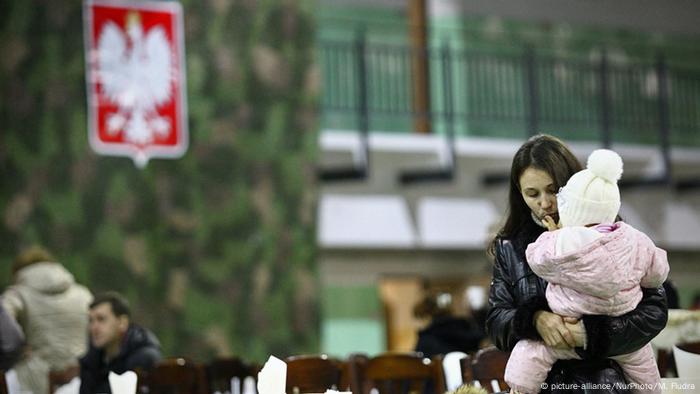 Some ethnic Poles have been relocated to the country from Ukraine's conflict zones
Politicizing refugees
Rafal Bochenek, the spokesman for Poland's government, told DW that the numbers did not necessarily render the prime minister's statement false. "From a legal standpoint, they are not refugees, but they are in fact refugees as they are fleeing to Poland from the Ukrainian war," Bochenek said. He said many from that group might view the country's asylum procedures as onerous, but that did not mean that they were not escaping the civil war.
Miroslaw Czech, of the Association of Ukrainians in Poland, said, however, that very few Ukrainians had gone to Poland as refugees. About 70 percent of Ukrainians living in Poland come from the country's west, Czech said - not its war-torn east. The government is throwing out the term "Ukrainian refugees" in order give the appearance of "European solidarity in the refugee issue," Czech said. Polish officials want to avoid receiving refugees from the Middle East by showing that the country has already met its quota for people escaping conflict.
Robert Tyszkiewicz, of the center-right opposition Civic Platform, said Prime Minister Szydlo was attempting to use the civil war for politicial reasons through her invention of "a million Ukrainian refugees." "Poland does not need to use figures to bluff and depict the dangers from the east," Tyszkiewicz told DW.
Szydlo, who took office in November, has pledged to fulfill the commitments made by the previous, Civic Platform-led government. That means that Poland would take in a total of 7,082 refugees currently residing in Italy, Greece and Lebanon.
Bochenek said the permanent distribution mechanism for refugees endorsed by German Chancellor Angela Merkel was not a good idea and called on the European Union to renegotiate it with members. He pointed out the Visegrad Group's unified position against refugee quotas: Poland, the Czech Republic, Slovakia and Hungary have rejected the proposal to distribute people across the European Union.